Continental WinterContact TS 870 review
If you're expecting snow, then the Continental WinterContact delivers the best performance on the white stuff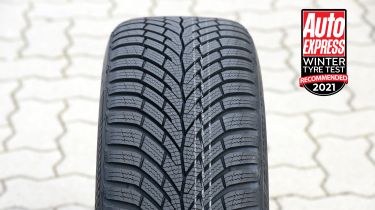 While it was a struggle to separate third through fifth places, the Continental was clearly in front of the chasing pack, but unfortunately Bridgestone is another step ahead.
The TS 870 took part in last year's test and it would have won were it not for a delay in its release due to the pandemic. But Bridgestone seems to have found something further, because while the TS 870 still had the edge in the snow, it couldn't match its rival elsewhere.
In the wet you could feel that from behind the wheel. Compared with most rivals the WinterContact had a useful balance, but it didn't quite have the bite of the Bridgestone or Hankook. A fourth in braking is not what we expect from Continental, but then neither is a double victory in aquaplaning – it's not usually a priority for the firm. Despite this, it could only manage fourth overall in the wet.
In the dry, we saw a so-so braking result, and while it felt alert around the dry handling sweeps, the lap time wasn't there. A decent fuel consumption result wasn't enough to topple Bridgestone.
We say:
The tyre to have when snow is on the ground, but the TS 870 couldn't quite back up its performance on other surfaces. Still the one to choose for the most severe winters.
Blackcircles.com says:
Only released in May this year, so there are no winter-use reviews available at the time of writing. It's sure to build upon the positive reviews of its predecessor, though.
| | | |
| --- | --- | --- |
| Continental WinterContact TS 870 | | |
| Overall: | 98.30% | |
| Price: | £139.50 | |
| Snow braking: | 99.90% | 2nd |
| Snow traction: | 100% | 1st |
| Straight aquaplaning: | 100% | 1st |
| Curved aquaplaning: | 100% | 1st |
| Wet braking: | 91.70% | 4th |
| Wet handling: | 97.80% | 5th |
| Wet circle: | 97.70% | 5th |
| Dry braking: | 94.60% | 5th |
| Dry handling: | 98.60% | 4th |
| Rolling resistance: | 98.50% | 3rd |
| Cabin noise: | 99.10% | 4th |