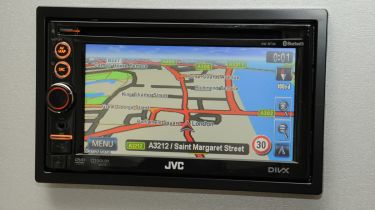 Best buy
This JVC is a 2011 model, but it's still a great all-rounder.
The navigation menus are easy to understand and the display is colourful – second only to the Kenwood in this test.
There's a CD slot and Bluetooth connectivity and the KW-NT30 can play media from other sources – it has a front-mounted panel with USB and auxiliary inputs.
The facia is detachable, while the screen displayed album artwork from our iPod. And all for a very competitive price.