TomTom Hands-Free Car Kit for iPhone
New hands-free phone holder is powered and adjusts easily, but it still falls down on price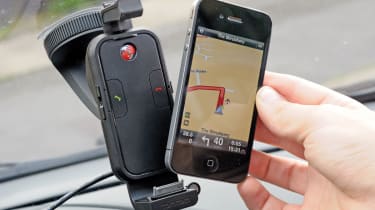 TomTom has launched a new powered smartphone holder for your car. The Hands-Free Car Kit uses Bluetooth, and comes in two versions: with the old-style 16-pin Apple connector or the micro USB Android plug.
It grips your phone securely, and feels well constructed – you fix it to your windscreen simply by twisting the base, and there's plenty of adjustment, so you can turn it to face you easily.
However, the buttons to answer and reject calls are a bit pointless – as soon as you put your phone in the holder, you can't press them. Easier to reach are the switches on the side, which adjust the volume of announcements.
Sound quality is clear and loud, and the large microphone at the bottom of the holder picks up yourconversation and transmits it well – our caller could hear us better than when we used the built-in hands-free system in our Kia Rio.
As with the original TomTom iPhone mount, though, the price is a sticking point. It's £79.95 on its own, and £129.95 with the sat-nav app. Arch-rival Garmin's StreetPilot Navigation App + Car Kit bundle costs £89.99.