Winter tyre test 2013
The full Auto Express Winter tyres test for 2013-2014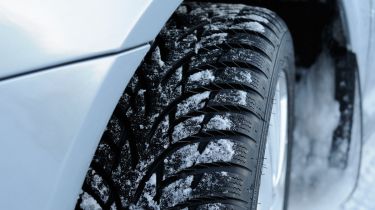 Winter tyres: when the cold weather sets in, the need for improved grip becomes a big issue on the roads. So if you're thinking about increasing the safety of your car, read our winter tyres test 2014 via the links to the left.
With up to three times the grip of standard summer tyres when driving on snow, the improved safety winter tyres offer is clear. Winter tyres also have better grip in the wet when temperatures go below seven degrees - which is a significant chunk of the year, especially for commuters. With a rough winter forecasted for this year, wintr tyres are looking like an even better investment.
Some 4x4 owners might say they don't need the extra grip that winter tyres provide - but that's not actually true. Our winter tyres vs 4x4 grip test video proves otherwise with some startling results.
The doubters, however, point to the lack of snow in much of the UK, plus the extra cost of storing summer tyres when not in use. However the improved traction in the wet and with new 'hotels' to store tyres while off your car readily available, it's undoubtedly worth buying a set of winter tyres for your car if you plan on driving over the colder months.
It's also important to know how to drive in the snow. You can read our helpful advice and tips for a detailed look at the subject, but here's an overview. The first thing to know about snow driving is to be prepared - make sure you leave early, take extra kit with you (for example, a shovel and warm clothes), and make sure there's no ice on the wipers or in the washer jets.
Once you're on the road, drive smoothly, without using sudden movements. The same goes for the brakes - try not to lock up and trigger the ABS system (on modern cars). If you do start to slide, stay calm and straighter the wheels to allow them to turn and gain grip. Of course, always think further ahead so you're not surprised by a tricky stretch of road or a sudden need to brake.
But which winter tyre to buy? Winter tyre development has stepped up in recent years, with speed ratings climbing and a steady stream of new designs hitting the market. To find out which is now the one for your car, we headed for the sub-zero temperatures of Nokian's test centre in Ivalo, close to the Russian border in northern Finland.
For the tarmac tests we used Nokian's proving ground in Tampere, Finland, using a Skoda Octavia. Eight tyres in the highly popular 225/45R17 size – as found on big-selling hatchbacks and family saloons – were put through their paces. We also used our test-winning summer tyre in this size as a comparison to see the advantage winter rubber has in slippery conditions.
As you'll see, the results were incredibly revealing...
• Test car used: Skoda Octavia 
How we found a winner
We did a number of tests, and try to ensure all have the same influence on the overall result. So, for easy comparison, we rated the winner of each test at 100 per cent and scored the others relative to that. First, we add up the percentage scores for each test. Then, we apply a weighting to ensure that tests with a large performance gap between best and worst– such as aquaplaning – count the same as those with a small gap. Price is only a minor consideration.
We tested:
- Snow braking- Snow traction- Snow circle- Snow handling- Slushplaning- Straight aquaplaning- Curved aquaplaning- Wet handling- Wet braking- Dry handling- Dry braking- Cabin noise-Rolling resistance- Price 
• 1st place - Nokian WR D3• 2nd place - Continental ContiWinterContact TS 850• 3rd place - Goodyear UltraGrip 8 Performance