Best HID headlight bulbs 2018
Early gas discharge bulbs are nearing end of their life, so we test eight standard and upgrade HID bulbs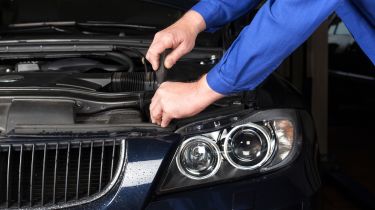 A key advantage of high intensity discharge (HID) headlights, apart from the hike in brightness over halogen systems, is that they can last up to 10 years. This means the early cars to use gas discharge lamps are now starting to need replacements. In an Auto Express first, we find out which HID bulbs you should fit when the originals fail.
HID bulbs are quite different from conventional halogen versions. The light source is an arc between electrodes, rather than a filament, and they run on higher voltages than conventional lamps. Many drivers get a workshop to replace the bulbs as a result, but it can still be a DIY job. Either way, you can choose which bulb is fitted.
The fast-growing market for replacement HID burners has seen performance versions launched to boost output – they are already two to three times brighter than halogen systems. Are they worth the extra? Or should you shop for a budget option online, where a pair can cost a third of the price of a big-name brand? We headed to the light tunnel at Osram's HID centre in Berlin to find out.
How we tested them
We used the same formula as we do for rating halogen bulbs, combining output measured at 50 and 75 metres in front of the car on dipped lights to get a beam rating. These D1S bulbs have their own built-in igniter, and were burned in for four minutes to give a stable output. An average of two bulbs formed the rating.
We used a BMW 3 Series projector headlamp – with its clearly defined dipped beam – looking for an even pattern with no dark patches. Cost played a minor role; the prices quoted are for a single bulb from a range of sources as we went to press. But look for discounts on pairs.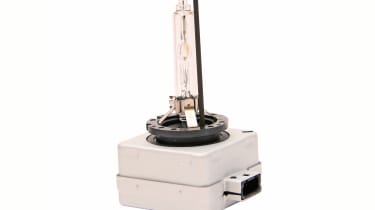 Also tested...
Osram Night Breaker Unlimited H7
Price: £17.99Beam: 86
To give an idea of just how much extra light HID bulbs put on the road, we tried Osram's standard performance H7 bulb in a VW Golf Mk6 headlight. The arc burning between two electrodes in HID systems delivers around 3,200 lumens, compared to the 1,500 lumens you get from the halogen's filament. This makes a big difference on the road, with visibility greatly reduced and tapering off past the 50-metre measure. The beam is also less consistent, with more dark patches.
Verdict
The two performance bulbs were a clear step ahead of the standard versions, with Osram getting the nod over Philips. Both are excellent choices, and the margin of superiority was a surprise. Our pick of the standard HID bulbs is Philips' Vision – because of the question mark over what you are actually buying with Ring. The GE-made burners in the Halfords and Ring packs are strong performers and are worth considering if you want a standard HID bulb.
1. Osram Night Breaker Unlimited Xenarc
2. Philips X-tremeVision
3. Philips Vision