New Alpine A290_ß concept teases future electric hot hatch
The production version of the Alpine A290_ß is set to debut in 2024 with bodywork very close to the concept
Alpine will take up the mantle from Renaultsport when it comes to hot hatchbacks, and this Alpine A290_ß show car previews a future hot hatch from the sporty French brand. The name – pronounced A290 'beta' – is derived from the gaming world, where developmental programmes are given this tag, highlighting that this car previews a production model that's set to make its debut in 2024.
Although this A290_ß show car is based on a one-off bespoke platform not dissimilar to that of the Renault R5 Turbo 3E concept shown last year, the production version will be based on sister firm Renault's CMF-B EV architecture, which the A290 will share with the future Renault 5 all-electric supermini.
The two concepts share a similar silhouette and basic shape, but the A290_ß offers an even sportier stance, thanks to wider track widths covered by chunky bodywork. There are 20-inch wheels wrapped in bespoke Michelin tyres (19-inch wheels will be standard on the production car), a deep front bumper housing the brand's trademark four-light face and 'X' LED signature, plus a big rear spoiler, extended side skirts and wheelarches made from a new "rock-like forged carbon" with a blue inlay.
According to Alpine design director Antony Villain, the A290's bodywork is very close to production. Expect more conventional door mirrors and some slightly different exterior detail treatment (the forged carbon is unlikely to make it in a bid to keep costs down). But the overall shape and stance, front end and lighting elements should all be replicated when the roadgoing model is revealed.
"The exterior is pretty close to what you will see on the street soon," Villain told Auto Express. "However, the interior is an homage to racing. We will have a more conventional layout for the production car, but we will still redefine everyday sportiness through EV and target new customers – and the interior will be a key part of this."
As Villain outlined, the A290's cabin is pure concept. While this ß model still features a five-door silhouette (only the front doors open, due to the car's extensive roll cage), the three-seat layout inside draws inspiration from Alpine's racing exploits, with a central driving position as in Formula One.
There's space for a passenger either side of the driver, set back slightly, while blue-LED lighting runs horizontally around the dash, intersected by a magenta LED stripe that highlights the central driving position.
The lightweight, 100 per cent "raw- carbon" bucket seats are trimmed in Alcantara, and while there's an overhead console for the car's kill switch, indicators and lights, the A290_ß doesn't feature a screen; Alpine says this is so that the driver can focus totally on driving. There is a slim head-up display, however.
While the A290 production car will have a more conventional interior layout, Alpine has committed to a design that will still be focused on the driver. So expect racy trim treatment and a lower seating position than in many electric vehicles to really involve the driver.
Technical specifics for the A290_ß have not been revealed, but we know it has two electric motors on its front axle (the production car will feature just one unit), with torque-vectoring tech to improve agility.
Partnership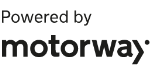 Need to sell your car?
Find your best offer from over 5,000+ dealers. It's that easy.
There are three drive modes: Wet, Dry and Full. In Wet the car responds more gently for extra stability and confidence; Dry sees aggression and performance dialled up, while Full unleashes maximum output. This can also be accessed using the red boost button on the car's steering wheel – marked 'OV' for Overtake – which will deliver a 10-second boost of power. According to Robert Bonetto, Alpine's engineering vice- president, this feature will be present on all Alpine production models in the future.
The chassis has front strut suspension and a rear multi-link set-up, with hydraulic bumps stops on the A290_ß's suspension dampers – technology carried across from Alpine's A110 sports car.
That model's brakes have also been fitted, so alongside the ß's adjustable regenerative braking modes, four-piston Brembo brake calipers bite 320mm discs at the front.
One thing that will be new for the A290 production model – and previewed by this concept – is the car's triangular graphics. Said to evoke the spirit of the Alps, where the brand takes its name from, the design will likely become a personalisation option for future models, with Villain outlining that this is a key area of development for Alpine.
Q&A with Antony Villain
Alpine Design Director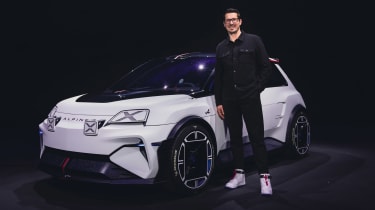 The man behind the A290_ß show car gives us insight into the design and what will make it on the production version.
Q: Is it difficult to design a sporty EV with a low driving position, given that the battery is mounted in the car's floor?
A: "Yes and no. The production car will have a lower seating position. Yes, the battery does hinder this slightly, but the dynamic feeling comes from the low centre of gravity. That weight [the battery] is very low, so the car feels very agile."
Q: What does the A290 represent for Alpine?
A: "It's an exciting opportunity. We are a young brand going from one to three cars in our range over the next few years – but also going full EV with those cars. It's a double revolution opportunity, and the A290 will start it."
Q: Sound is a key part of a sporty car such as a hot hatchback. How will you take on this challenge?
A: "We're working on a specific sound signature to enhance the driving experience for buyers. Emotions through sound to reinvent the driving experience are so important, so it's something we're really focusing on."
Q: What about the 'exhausts' in the rear bumper – why go EV and then copy an ICE car?
A: "Ha! They were actually inspired by the air-vent extraction fans on a gaming computer and were a little in-joke with our CEO, Mr Luca de Meo. Let's say it's a little Easter egg."
Q: As Alpine is taking on Renaultsport's mantle, is there potential for limited-run special models in the future?
A: "It's an interesting idea and I'm sure both the engineering and design teams have some exciting ideas!"
Click here for our list of the best hot hatchbacks on sale right now...