Aston Martin reports record half-year profits
Revenue doubles as Aston Martin reports record profits – thanks in part to new DB11 sports car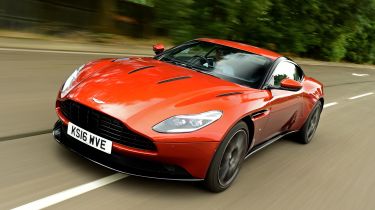 British sports car maker Aston Martin has reported record half-year profits, thanks to a sharp rise in wholesale deliveries. The company's revenue almost doubled year-on-year in the first six months of 2017, as demand for its cars increased.
Pre-tax profits of £21.1m (up to 30 June) were welcomed by CEO Andy Palmer - reversing an £82.2m loss in the same period in 2016. Revenue increased from £211.8m to £410.4m, while whole volumes rose by 67 per cent. A total of 2,439 vehicles were delivered, with an average selling price of £149,000 – a 25 per cent increase year-on-year.
High demand for the new DB11, along with continued strong sales of the V12-engined Vanquish and Vantage S models, helped the maker record its best six months ever, while the sell-out success of special edition models like the Vantage Zagato also contributed to the numbers. Continued development of the forthcoming Valkyrie hypercar should ensure future prosperity, along with the hotly anticipated DBX electric SUV.
"Aston Martin is accelerating financially with our third successive quarter of pre-tax profit," Palmer said. "Our improving performance reflects rising demand for our new DB11 model, as well as for special edition vehicles and the ongoing benefits from our Second Century transformation plan."
Mark Wilson, Aston's executive vice president and chief financial officer said: ""The strength of our first-half results prove that our strategy is on track. We exceeded our budget for the tenth consecutive quarter, giving us confidence that we will deliver a step-change in full-year performance."
Are you surprised to see Aston Martin reporting record profits? Let us know in the comments below…