Aston Martin Vantage and DBX to return as F1 safety cars in 2022
Formula One will see Aston Martin's Vantage sports car and DBX SUV lead the pack again in 2022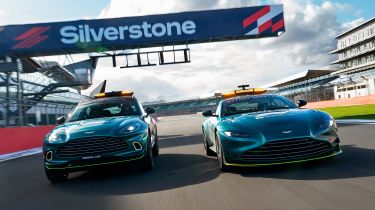 Aston Martin has confirmed that its presence on the Formula 1 grid in 2022 will go further than competing through its team by continuing to supply safety and medical cars for use at selected rounds of this season's championship. 
In a similar deal to last season, 12 race weekends will see Aston's Vantage coupe and DBX SUV take on duties as the official safety and medical cars respectively. They'll begin their campaigns at the third race of the season: the Australian Grand Prix, returning after two seasons due to COVID-19 related postponements. 
As was the case last season, both cars feature extensive modifications over their road-going versions in order to perform their on-circuit roles. Both feature unique liveries, lighting systems and radio communication hardware, while the Vantage also incorporates access to the FIA Marshalling system. The DBX medical car has been modified with unique storage solutions for safety equipment, including a defibrillator. 
Last year's Vantage safety car provided the inspiration for a higher-performance road-going Vantage: the Vantage F1 Edition. Power increases 25bhp over the regular Vantage with a retuned version of the car's Mercedes 4.0-litre biturbo V8 engine, while it also receives unique aero and chassis componentry. 
An F1 Edition version of the DBX seems unlikely to follow though, given that the brand has just unveiled a high-performance version of its SUV called DBX707. This, like the Vantage F1 Edition, gets a higher power output over the regular DBX, leaping from 542bhp to 697bhp along with a tweaked chassis and more aggressive exterior styling. 
With 23 races planned for the 2022 season, this year's proposed F1 calendar is the longest championship in history. With Aston set to cover 12 of those 23 races, it's not yet been confirmed if Mercedes will return to provide safety and medical cars for the other 11 Grand Prix weekends this season. 
The German brand has a long track record of providing official circuit cars in Formula 1, and last season shared duties with Aston Martin, providing its AMG GT Coupe for safety car duties and its AMG C 63 Estate as a medical car. However, both models are to be replaced with new-generation cars later in 2022.
Check out the fastest SUVs on sale here...