New Aston Martin DBX by Q shows off customisation options
Aston Martin's 'Q' customisation division has been let loose on the brand's new DBX SUV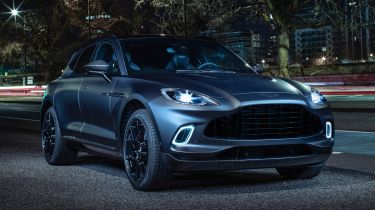 The heavily customised Aston Martin DBX by Q has been revealed ahead of its official launch at the Geneva Motor Show next month.
Claimed to highlight the 'rule-breaking customisation' that is achievable through its Q bespoke division, the DBX by Q is said to showcase Aston Martin's 'darker side'.
That goes some way explain why the tailored DBX by Q is painted in dark satin grey, sits on huge gloss black 22-inch wheels, features a darkened grille and ditches all of its exterior chrome. A full carbon fibre exterior styling pack completes a look that's claimed to portray an aggressive, confident attitude.
Inside, the bespoke division has worked hard to recapture the menacing exterior within the cabin. 'Obsidian black' leather seats and machined carbon fibre finish around the centre console, as does a single piece of herringbone finished boot floor that, again, has been weaved using carbon fibre.
Contrasting with all the gloominess, there's diamond patterned satin aluminium that's used on the door pulls, lever, and centre console surround.
If you're wondering how much it all adds to the DBX's, already towering £158,000 price tag - Aston isn't saying yet, but the work and attention to detail that has been lavished by its Q department, only goes to demonstrate the commitment the British brand's devotion to making your new SUV unique.
Don't believe us? The show car's centre console's carbon-fibre finish was a real labour of love taking 280 individual layers of carbon-fibre laid meticulously by hand before a 12-hour curing process. The centre console then underwent 90 further hours of milling before it was judged ready.
Commenting on the Aston Martin DBX by Q, design boss Marek Reichman said: "the example shown today is just one sphere of inspiration that can be explored, but with DBX providing the ultimate canvas to bring a vision to life, I fully expect to see a wide and broad variety of creations over the coming months." 
Aston Martin says following its debut at the Geneva Motor Show, the DBX By Q's special satin paint and carbon exterior pack will both be available to order on the rest of the DBX range.
Click here for everything in the build-up to the 2020 Geneva Motor Show...