Audi Q3 specs: the SUV crossover turning heads (sponsored)
The Audi Q3 has the technology and equipment to compete with the cream of the SUV crop. Find out more here...
The Q3 is one of the most successful Audi Q models, thanks to its combination of space, elegance and refinement. It is big enough to cope with everyday life but still compact to make driving in town a breeze.
From the first glance, it's the distinctive premium look of the Audi Q3 which really raises it above other SUVs and crossovers. It features coupe-like lines and a signature wraparound tailgate, with the bold grille framing the famous four rings of the Audi logo on the nose.
Behind that nose is an even greater choice of engines and transmissions. Two TDI diesels and a pair of TFSI petrol engines are on offer; the 1.4-litre TFSI is a highly-advanced petrol with Cylinder-on-Demand technology to ensure exceptional economy and performance. It means the 150PS unit, which can be linked to either manual or S tronic dual-clutch transmissions, can power the Q3 from 0-62mph in as little as 8.9 seconds and yet still return up to 51.4mpg.
Higher up in the petrol line-up is the 2.0-litre TFSI unit with 180PS, which is hooked up to an S tronic gearbox and features quattro all-wheel drive.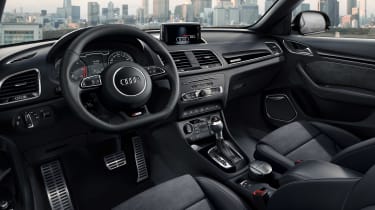 The diesel choices are four-cylinder, 2.0-litre TDIs with a choice of either 150PS or 184PS. Both are incredibly efficient, with up to 62.8mpg and a CO2 output of just 117g/km.
As with all Audis, the technology fitted to the Q3 is cutting edge. Satellite navigation is standard on all models, as is dual-zone climate control and DAB radio linked to a 6.5-inch colour monitor. Xenon or LED headlamps are standard, too, depending on the model.
Technology also helps the Q3 maintain Audi's reputation for driving dynamics. Despite its SUV status and capability, the Q3 feels nimble and agile thanks in part to Audi Drive Select. It enables drivers to select the throttle response, automatic transmission shift points and electromechanical power steering to suit their personal preferences.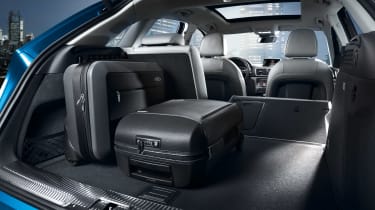 And it's not just the driver who will feel comfortable in a Q3. There's room for five and their luggage, with a 420-litre boot. If you need more load space then the rear seats can be folded to reveal an estate car-rivalling 1,325 litres of capacity.
But whether you are carrying passengers or luggage, the Q3's distinctive, sporty elegance ensures you will arrive in style.