Audi charging service now covers 75 per cent of UK charge points
Audi's e-tron charging service now gives drivers access to more than 17,500 charge points across the UK with just one account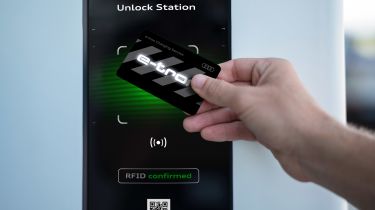 Audi's one-card e-tron charging service has been expanded in the UK, with coverage reaching almost 75 per cent of the UK's electric car charging network.
The additional coverage is thanks mainly to a new agreement with BP Pulse. The company has one of the UK's largest charging networks, with the deal meaning a further 6,000 charging points can be accessed via the Audi charging service RFID card or the MyAudi smartphone app. 
Further new charging stations come from partnerships companies including Pod Point, Source London, Ionity and 19 other UK charging operators.
There are also 242,000 charge points accessible via the e-tron charging service across Europe. 
The service is accessed using an RFID card which, in Audi's newest plug-in hybrid or fully electric models, is already in the glovebox of the car. To sign up, buyers need to register their payment card information and vehicle details, including the car's VIN.
The City tariff costs £4.91 per month and is aimed at drivers who predominantly cover short distances in urban areas. Audi also says this tariff best suits its PHEV models.
With Audi's this service, customers pay a standard rate of 29p/kWh for AC charging or 39p/kWh for DC fast-charging. Rates for the 350kW DC IONITY chargers are also fixed at 70p/kWh.
Another tariff called Transit is designed for those who regularly cover longer distances and therefore require faster charging speeds. It's priced at £16.81 per month, and the standard AC and DC charging rates are the same as those in the City tariff.
The benefit of the more expensive package is a discounted rate for IONITY's 350kW chargers of 28p/kWh. As a further incentive, Audi will give its EV drivers the Transit tariff free of charge for the first 12 months, along with a £150 charging voucher.
As part of the deal with BP Pulse, access to this network is included in both the City and Transit tariffs. Customers pay 20p/kWh for AC charging and 29p/kWh for DC rapid charging. For DC charging at 120kW and above, there's a flat rate of 42p/kWh.
However, drivers can also add an optional BP Pulse pack to their subscription for an extra £7.85 per month, which grants access to discounted charging rates of 16p/kWh for AC charging, 23p/kWh for DC rapid charging and 27p/kWh for 120kW and above DC charging.
What do you make of Audi's new one-card charging service? Let us know in the comments section below…