Audi will launch final petrol and diesel cars in 2026
Audi will phase out petrol power in Europe in 12 years' time, with a new line-up of "more than 20 e-tron models" scheduled for launch by 2025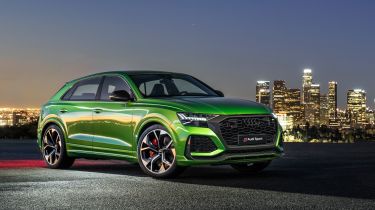 Audi has announced it will sell its final internal combustion-engined car in Europe in 2033. It's the latest move in the brand's march towards electrification, which will help Audi fulfil its goal of achieving net-zero carbon emissions by 2050.
Audi's last newly developed combustion-engined vehicle will hit the market in 2026 – but after that, the brand will stop producing new ICE units and focus on pure-electric powertrains. However, Audi says it will continue to build its existing fossil-fuelled powertrains for China, as the market is expected to continue growing after 2033.
For Europe, the wind-down will start with immediate effect. Audi has already mapped out a line-up of "more than 20 e-tron models" that will hit the showrooms before 2025, with the recently launched e-tron GT being joined by a Q6 e-tron in 2022 and a new electric saloon that will bolster the A6 family in 2023.
Both EVs will be based on Audi's new Premium Platform Electric (PPE) architecture, which has been specially developed to underpin everything from low-slung coupes to high-riding SUVs. In that sense, it differs from the Volkswagen Group's MEB platform found under the Q4 e-tron, as that's only suitable for taller hatchbacks and SUVs.
Audi is also expected to launch a larger flagship electric SUV, potentially called the Q9 e-tron. It would sit alongside the Q8 in Audi's line-up, mirroring the naming strategy of the Q3 and the Q4 e-tron.
Audi's CEO, Markus Duesmann said: "Through our innovative strength, we offer individuals sustainable and carbon-neutral mobility options." He added: "I don't believe in the success of bans. I believe in the success of technology and innovation."
It's not yet known which model will carry Audi's final combustion engine (paired with some form of hybrid assistance), but there are two main candidates. Both the Q5 and the Q8 are due to be replaced by 2025, which means that next-generation models of each nameplate would be pulled from showrooms by Audi's 2033 deadline, should they have a conventional seven year life-cycle.
Audi hasn't yet confirmed whether its final ICE unit will chase outright performance or maximum efficiency, but Duesmann commented: "Audi's last internal combustion engine will be the best we've ever built." However, we do know that Audi's final generation of combustion engines will be compatible with synthetic fuels.
Now read our review of the pure-electric Audi e-tron GT…