Audi trials new electric car charging hub in Europe
Audi is building more of its charging hub units in Europe following a successful test run, and an international expansion could be on the cards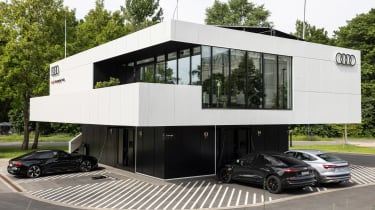 1/8
Audi is providing a glimpse of what electric car charging could look like in the future, by rolling out more of its bespoke charging hubs across Europe. If the concept is well received, there is potential for an international rollout of charging hubs that could include the UK.
Designed to offer a "premium" charging experience with a variety of services provided at each unit, Audi's charging hubs centre around compact, modular buildings that can be easily erected in urban areas, and use second-life EV batteries to charge any brand of electric car. 
The firm built its first hub in Nuremberg to test the concept, where 60 per cent of users were found to be repeat customers. On average, the site charges 24 cars per day, and features a lounge, catering and a grocery service that delivers directly to the hub. 
Audi hopes that its charging hubs will enable a more efficient use of a driver's time while they top up, and the relative ease with which they can be installed could make them an attractive urban charging solution - particularly for those who are unable to plug in at home. 
Charging spaces can be reserved using the MyAudi app, and up to six are available depending on the size of each hub. The unit is powered by a combination of grid energy and second-life electric vehicle batteries, and the brand claims that a "green power contract" provides energy solely from sustainable sources. Roof mounted solar panels can provide an additional 30kW of energy, too. 
A charging hub can be assembled in just 1 month, and without the need for the foundations of a typical building structure - only a flat tarmac surface is needed. This makes it much easier to acquire planning permission for the urban areas where they will be installed. 
Given the positive reception to the initial charging hub, Audi will be opening another in Zurich this year, with more planned in Salzburg, Berlin and elsewhere in Germany by 2024. Depending on the success of these, Audi will make a decision on installing more in other countries, so it's possible that charging hubs could become available to electric car owners in the UK.
Click here for our list of the best electric cars on sale right now...