Audi launches dealer cams
Audi workshops will now video problems, then post the footage online for customers to see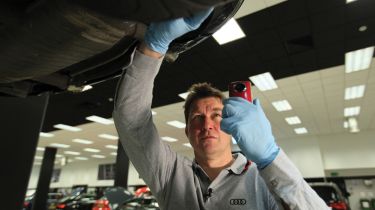 Ever wondered what your dealer was doing to justify those repair bills? Now you can find out, as Audi showrooms are to start capturing problems with customers' cars on film.
It's part of a scheme called Audi Cam. Workshop technicians will be issued with hand-held cameras so they can record clips showing owners what's wrong with their model.
Each problem identified in an initial inspection will be filmed separately to create a clip. This explains what's wrong and what work is needed to fix it.
These clips are uploaded to a secure website, and a link is E-mailed to the customer, who can view it on their computer, tablet device or smartphone.
The clip of each fault will also be ranked as 'urgent', 'advisory', or 'for info', and come with a VAT-inclusive price for each job.
Customers can approve the work, reject it or request a call to discuss the issue. There are even profile pages of the technicians, so customers can get to know the team working on their car.
This free service is available at all UK Audi dealers, and the company says it's offered on all models – no matter how old.
Paul Sansom, Audi's head of aftersales and service, told Auto Express: "By effectively beaming the workshop to our customers' homes or phones, Audi Cam greatly simplifies the service and repair process.
"And at the same time, it breaks down more of the barriers between the service bay and the customer that have traditionally fostered scepticism and suspicion."