"Audi chairman Rupert Stadler offers me a 10 min interview in his A8. I take it"
Our man grabs a quick chat with Audi boss Stadler and covers Apple, F1, BMW, Mercedes and the Korean government...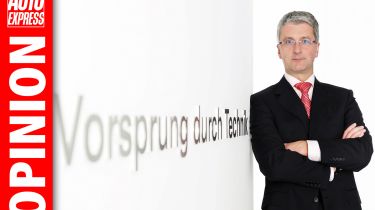 I've been trying to grab a quick one-to-one chat with 'The Prof' for yonks. But the self-confessed 'humble man' who's the mere son of a farmer is insanely busy. One day he's testing Ducati motorcycles in anger at race circuits and proving grounds all over the world. The next he ditches the crash helmet and dons his football scarf as he sits on the Bayern Munich board.
Also, his job description dictates that he puts in a few hours a week in or around Lamborghini HQ. Italdesign Giugiaro is another one of his precious and famous adopted babies. Oh, and there's the little matter of him and his 77,000 employees building more than 1,8 million cars, almost 2.0 million engines and 45,000 motorcycles per year. The icing on the cake is that his not so little empire boasted annual gross revenues of around 55 billion Euros and pre-tax profits of 6 billion Euros last year.  
The 52 year old humble German in question is Professor Rupert Stadler, Chairman of the Board of Management at Audi which has Ducati, Lamborghini, Ital and a 9 per cent slice of Bayern Munich under its wing.
"Yup, happy to have that quick chat with you," he told me last week. "But there's no time to do it tomorrow as the company jet departs the airstrip at 5am, so it'll have to be now." I respond by pointing out that it's almost midnight. He says take it or leave it - a ten minute interview in his A8 as his chauffeur drives him to a nearby hotel. I take it.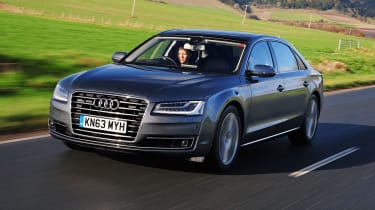 Immediately I ask if Audis can remain premium products when sales continue to go through the roof and almost every other car on the road seems to be one of his. "Look at Apple," he replies as he grabs the iPhone from his jacket pocket and points it towards me like it's a loaded gun. "They sell plenty of these things, but is Apple losing its premium status? I don't think so."
But if the Audi brand keeps growing - UK sales are heading towards the 200,000 a year mark - isn't there a danger that it'll move into the same common as muck territory that the likes of Vauxhall and Ford currently occupy? "We're getting it [the balance] about right. We will not rein-in the level of sales. But we wont push it," the Audi chairman promises, before adding that the ideal for a premium car maker like his is to maintain desirability among motorists by having one less available car than there are customers.
Audi dealerships haven't done great in our Driver Power survey. Is he happy with the network?  "Yes. You have 120 exclusive dealers in the UK. They all need to earn money," he gently reminds customers who sometimes complain about the high price of, for example, servicing.      
How did Audi do the impossible and transform itself from a quirky and troubled little company that nobody quite knew what to do with, to a 'top three' premium brand now armed with what's arguably the most desirable range of products? "We had the vision. We were always very clever. We wanted to be on the podium with the other two."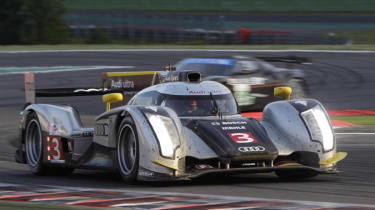 But taking on and beating BMW and Mercedes was - and still is - the hardest job going, correct? Stadler agrees, before mischievously hinting that his two fiercest rivals may have played into Audi's hands in recent decades thanks to quality issues at Merc and design woes at BMW. In short, those two left the door open.
Partnership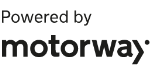 Need to sell your car?
Find your best offer from over 5,000+ dealers. It's that easy.
When I ask him which car firm might be best placed to rise up and 'do an Audi' in future decades, he insists he can't think of one. Hugely underrated and fast improving SEAT perhaps? He's not convinced.
And he's even less impressed with the recent crop of larger and considerably more expensive wannabe premium cars from Korea. "They're not premium," he tells me and, in turn, you. And in the closest he gets to having a moan, he expresses distaste for the "heavy support" companies such as Hyundai and Kia receive from the South Korean government. The playing field, he suggests, is not even.  
His enthusiasm for and commitment to driverless cars is, I somewhat arrogantly tell him, misguided and risky because nobody's bothered to ask consumers if we want such vehicles. He responds by telling me I'm plain wrong. "We've done lots of research on this. It started years ago. Millions of drivers are stuck in their cars, losing valuable time every day. There's a wish and a need not to lose this time."
The idea is that if the motorist puts the car into auto pilot when on heavily congested rush-hour roads, he can at least read, do a little paperwork, or play with the phone while his car is driving itself. Personally, I'm not convinced.
But I am convinced that Audi will eventually enter Formula One - probably by getting into bed with a team such as Red Bull which could use a new engine supplier. So since Stadler repeatedly says he cannot say yes or no to F1, what can he say?  "In life you must keep things open. We're already well stuffed with successful motorsport projects. But with F1, wait and see. It's an option for Audi. Not at this moment, perhaps. But it is still an option."
That, at least, is the official word from Audi's Chairman. Unofficially, I'm hearing that the marriage with Red Bull is inevitable. My understanding is that the lawyers are currently drawing up a prenuptial agreement. Honestly, if Audi doesn't join the Formula One circus I'll eat my driving gloves...washed down with a can of Red Bull. 
What do you think about the rise and rise of Audi? How long can it go on? Let us know your thoughts in the comments section below...