Audi reveals new focus on plug-in hybrids and all-electric cars
All-electric SUV to be launched in 2018, but Audi is becoming VW Group centre for hydrogen development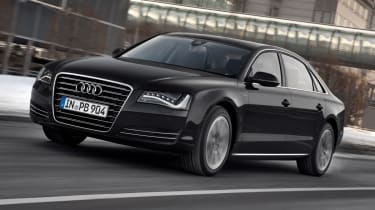 Audi has confirmed that it will launch its first all-electric vehicle in 2018. "Our first fully-electric large-series car will go into production in the year after next", said Audi CEO Rupert Stadler. The new model will be built in a new plant in Brussels, which will also be the site for production of Audi's own batteries.
"Audi Brussels will be the pioneer for electric mobility at the Audi Group," said Stadler. "For the battery cells, we rely on our strategic partners LG Chem and Samsung SDI. Oth of them have developed a high degree of expertise over many years. Both of them developed extremely high-performance cell modules: according to our specifications – and in Europe."
• Best electric cars to buy now
However, in spite of Audi's CFO Axel Strotbek saying that the company will focus on plug-in hybrids and all-electric vehicles, Audi is still pushing ahead with development of hydrogen power, with Audi set to become the centre of excellence on hydrogen power within the Volkswagen group. "We also see great potential in fuel-cell technology," said Stadler. "Our Audi h-tron concept study operates soley on electric power, and with hydrogen as an energy source – hence the name h-tron. 
"Audi will have competence-centre responsibility within the Volkswagen Group, and will bring this technology out of research into series development in the coming years."
Audi has confirmed a £2.3billion pound spend in 2016 on electrification and digitalisation, while also confirming annual profits of £3.71billion in 2016.
Take a look at our verdict on the best hybrid cars on sale now...