Audi RS models could go rear-wheel drive
Audi could target BMW and Mercedes by ditching quattro all-wheel drive in favour of rear-wheel drive for its most focused sports cars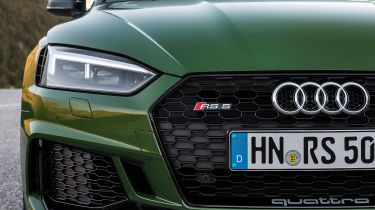 The boss of Audi Sport has hinted at the potential for future rear-wheel drive models designed to take on the most focused models from BMW M and Mercedes-AMG.
Since rebranding itself from Quattro GmbH to Audi Sport, CEO Stephan Winklemann has been looking at where the company could go in the future.
• Best performance cars on sale
Speaking at the Goodwood Festival of Speed, Winklemann told Auto Express: "When looking at the name, we decided Quattro could be misleading. Quattro is the four-wheel-drive system and is one of the things that made Audi great – but in our opinion was not the right name for the company.
"I can imagine we can also have cars with rear-wheel drive or two-wheel drive in the future."
While he wouldn't expand on his comments, it's a clear indication that Audi Sport is hatching plans to close the gap on BMW's M division and Mercedes-AMG by developing more involving RS models without Audi's quattro all-wheel drive setup. It's likely quattro would still be offered on many models, while remaining a standard feature on the most powerful variants.
Winklemann added: "Quattro can be a company, but it can also be an option. We wanted this to be clarified. We looked for something that was immediately recognisable – something that could be more than just the name of a company.
"Our cars will remain distinguished, but never pimped. We'll always offer high performance, but at the same time our cars must be comfortable – and give you a feeling that you are better than you expect."
In the more immediate future Winklemann confirmed the maker's intentions to reveal two new Audi Sport models at the Frankfurt Motor Show in September, with electrified powertrains for future RS model also on the cards.
Would you be happy to see future Audi RS models as rear-wheel drive? Let us know below...