Audi A8 e-tron on the way with new V6 diesel-electric engine
More powerful plug-in hybrid version of V6 diesel to get first showing in Audi A8 e-tron, then rolled across the range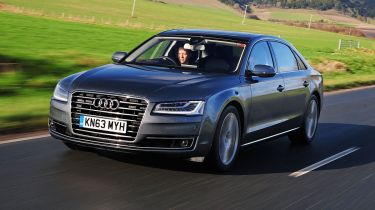 Audi will add a second more powerful e-tron drivetrain to its model range using the new 3.0-litre V6 diesel, appearing first in the Audi A8 e-tron.
The new model follows the smaller A3 e-tron Sportback, which uses a smaller 1.4-litre engine paired to an electric motor. The new set-up will be used to power larger models in the range, and Audi's board ember for technical development Dr Ulrich Hackenberg confirmed that the A8 would be the first car to get the tech.
There were no details on the size of electric motor, but Audi did confirm that the new system would have 368bhp and up to 700Nm of torque. The manufacturer also confirmed that it would have an all-electric range of 30 miles.
The new system will be presented at the beginning of 2015, before going into production. It will then rolled out across other cars in the range. Dr Hackenberg told us. "The 3.0-litre e-tron will be used in different cars. The plugin hybrid is an exciting combination." That means it's likely to turn up in things like the Q7 and A6, too.
Dr Hackenberg also revealed that the the A8 e-tron should boast some impressive figures when it does arrive. "It will go under the 100g/km barrier, especially in Europe," he explained.