"Bentley's move to electric won't be binary" says CEO
Brand's switch to fully electric cars won't happen overnight, with petrol power still very much in the frame short term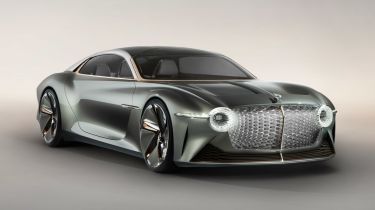 Bentley's transition to selling only fully electric cars by 2030 "won't be a 0/1 binary switch," according to Chairman and CEO, Adrian Hallmark. 
"The strategy is bold, but it's over a decade," he said, outlining that last year's announcement and the brand's Beyond 100 future strategy are to show that Bentley is ready for change after 100 years. 
"It's not because we're escaping from what we've done in the past, but we can see that there are immovable forces that we want to embrace. We want to lead rather than lagging behind.
"Between now and whenever we get to full electric, you can be absolutely sure that we'll be offering a multitude of derivatives and special editions with more conventional powertrains until we get to hybrids, then more differentiated hybrids - plug-in - before we get to full electric."
Hallmark outlined that Bentley has at least a decade to really make the best of this period in Bentley's history and get ready for the switch to electrification, adding "that it will not be an overnight switch."
This fits with Bentley's plan to launch nine new products in 2021, including two plug-in hybrids. We've already seen the reveal of the brand's Bentayga plug-in hybrid SUV, while the firm recently revealed its most dynamic and performance-focused road car yet, the Continental GT Speed.
Plug-in hybrids are very much on the agenda for the luxury car maker, with Bentley stating that it will only offer fully electric or PHEV products from 2026 onwards, which could hint at plug-in hybrid versions of the Flying Spur or Continental GT - or perhaps both - unveiled this year.
Bentley's plans to move towards plug-ins and battery-electric vehicles have been well received by customers, according to Hallmark.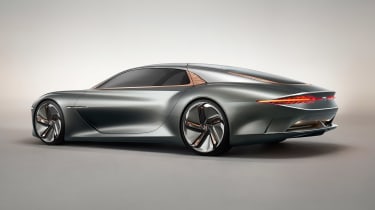 He told Auto Express that a survey of several hundred Bentley owners showed that 58 per cent would buy an electrified Bentley in the next five years if there was one available.
But he also pointed out that these customers stated they wouldn't not buy a conventional-engined Bentley at the same time, even if they are looking for electrification.
"We're not jumping into a hopeful position with our Beyond 100 strategy. This is based on customer information and the known legislative environment. The key thing for us is that the effortless performance and the smooth, refined acceleration that you get in a Bentley fits perfectly with the electrified future, so we embrace it."
Hallmark outlined that Bentley's iconic W12 engine would not be electrified with a plug-in variant however, due to the added weight of a battery and electric motor on top of the already sizeable engine. 
This points towards the brand's existing V6 plug-in hybrid powertrain doing the lion's share of the work in its electrified models. However, Bentley could also use the 4.0-litre twin-turbo V8 plug-in hybrid powertrain from the Porsche Panamera and Cayenne Turbo S E-Hybrid models, which produces up to 690bhp depending on the state of tune.
All of Bentley's models use the same basic 4.0-litre combustion unit, while the Continental GT and Flying Spur are based on the same MSB platform as the Panamera. The Bentayga SUV uses the MLB Evo platform shared with Porsche's Cayenne, so packaging the battery and electric motor in Bentley models is feasible.
Partnership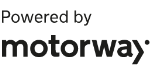 Need to sell your car?
Find your best offer from over 5,000+ dealers. It's that easy.
Are you pleased to see Bentley switch to pure electric power? Let us know your thoughts in the comments section below...