Video: 180mph blast in a Bentley Continental GT Speed
We crank the 626hp 2014 Bentley Continental GT Speed close to its 206mph top speed - then run out of road.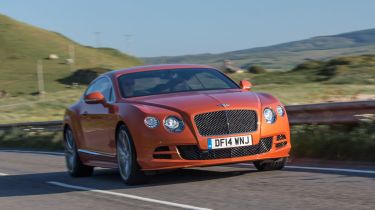 This is the new Bentley Continental GT Speed: an update of a car launched two and a half years ago. We're here at an empty runway in Scotland to test the Speed's on-paper claim of a 206mph top speed.
The changes to the latest GT Speed run deeper than you'd think. They begin with the 6.0-litre twin-turbo W12 engine, which gets an ECU remap and higher-pressure turbos for an extra 10bhp and 20Nm of torque. That takes the total to 626bhp and 820Nm, 0-60mph takes 4.0 seconds flat and the top speed creeps up to 206mph, or 203mph for the convertible.
We'll be honest, deciphering that extra 10bhp on top of the existing mountain of power and torque is virtually impossible, but then the GT Speed was a rocket-ship to begin with. The way it gathers pace is nothing like a peaky Ferrari V8 or even a burbling AMG V12 - it simply delivers a wall of maximum torque from 2,000rpm to 5,000rpm giving you performance ranging from effortless to alarming, depending how deeply you bury the throttle.
We might not be able to sense the small increase in power, but the styling updates are thankfully more obvious. A new front splitter, sharp side skirts and rear diffuser are all finished to match the paintwork – in our case a particularly fetching Burnt Orange. Gorgeous 21-inch wheels are finished in a unique 'Speed' design and with a dark tint, while there's red brake calipers and a stainless steel 'Speed' badge is glued to the flanks.
We didn't quite hit the 200mph mark but we would have with a bit more space. What's brilliant about this flagship Continental GT Speed, though, is that when you're not doing triple figure speeds it's still a proper Bentley with all the refinement and luxury you could want.