Top 10 most comfortable cars on sale
We pick 10 of the most comfortable cars to drive, or be driven in, currently on sale in the UK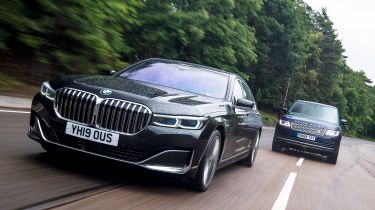 A comfortable car can be a more appealing proposition than one that offers exceptional handling finesse, particularly for more mature drivers. The importance of a smooth ride is emphasised in this country by our notoriously bumpy roads and that's why we've produced a list of the 10 most comfortable cars on sale in the UK. These cars offer comfort like no other, whether you are driving or being driven, and in our view no other cars can match them.
So what makes a comfortable car? Well, you'll find that these cars combine pliant suspension, plush seats and a cabin that's well insulated from noise to provide quiet serenity, while build quality and a selection of optional infotainment and tech goodies are available as an added bonus.
As our top 10 reveals, the most comfortable cars on sale have a rich pedigree of delivering luxury to their owners, and they have had many years of development at the hands of engineers that are experts in their fields. Cars in this list (mostly) have had no expense spared on their development - these are the cars that are so smooth that you can balance a coin on their running engine, and it won't fall off through vibration.
One highlight of many of these cars is air-suspension. This replaces conventional steel springs with airbags at each corner which can be electronically adjusted to deliver supreme comfort. And with today's level of electronic intervention, some of these cars can set up their suspension in preparation for a corner, courtesy of combining GPS and map data, so that passengers remain relaxed and unruffled by any cornering forces. These electronics also form the basis of the next-generation of luxury car, which will showcase the cutting-edge autonomous technology that will see even less input from the driver as the car takes autonomous control.
What's even better than driving one of the most comfortable cars, is to be driven in one. These cars are just as good to sit in the back of as they are the front, and if you go for a long-wheelbase version, you'll have legroom to spare. Other highlights include massage seats, rear seat entertainment in the form of TVs, fridges and USB ports to run all sorts of handheld devices.
So, without further ado, here are the 10 most comfortable cars currently on sale…
Most comfortable cars on sale
What's the most comfortable car you've ever owned? Tell us in the comments section below...