Range Rover - most comfortable cars
The Range Rover is one of the most comfortable cars of all, both on the road and off it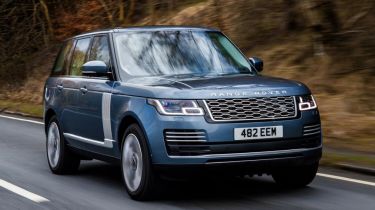 Just like that other bastion of British luxury with the initials RR, the Range Rover has become the epitome of luxurious motoring. There's a certain cachet that the car has courtesy of its popularity with the royal household, but even without this, the Range Rover can stand tall as a luxurious car that rivals the best limousines.
Despite its stint in production spanning almost half a century, there have only been four generations of Range Rover. The current one has been on sale since 2012 but thanks to new engines and updated tech it still feels modern. There's a host of engines from a 2.0-litre, four-cylinder hybrid all the way to a 5.0-litre V8 565bhp supercharged petrol. Go for the long wheelbase version, and you'll have to forego the hybrid but you'll get just as much space as a stretch limo - not that the standard car is tight to start with.
At the very top of the range, the SV Autobiography has the hand-crafted luxury that buyers at this level crave, while the distinctive proportions and lofty driving position mean the Range Rover is like nothing else on the road.
The long-travel air-suspension delivers the pillow-soft ride needed to cope with the UK's bumpiest roads. That air-suspension adjusts low to ease entry an exit, while in its highest setting the Range Rover will tackle rough ground that hardly any owner will dare to traverse.
Most comfortable cars 2017