BMW 7 Series - most comfortable cars
The BMW 7 Series offers supreme comfort across its model range and pushes the Mercedes S-Class harder than ever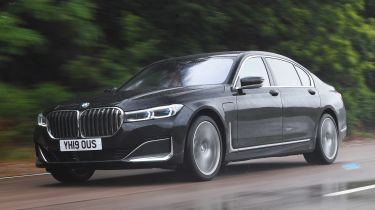 Okay, so the huge grille might not be to everyone's taste but as long as you're driving or, more likely, being chauffeured in the current 7 Series you can't see it and you can focus on enjoying the opulent interior and magnificent ride.
BMW offers gesture control which was an new innovative feature when the current 7 Series was released and allows drivers to control parts of the infotainment with simple hand gestures. For ultimate comfort, there's a Rear Seat Comfort Plus Package which adds reclining airline-style seats and a centre console.
There's plenty of tech under the skin, too, with carbon fibre in its construction that's designed to keep the weight down, so the 7 Series is a luxury limo that likes to be driven briskly, even if other occupants aren't keen on enthusiastic cornering.
If you're in a hurry, the V12-powered 760Li has an outrageous amount of power, although speccing it in Exclusive trim gives it a look that's as subtle as the 725d that costs half the price. It's a real Q-car, and with a 0-60mph time of 3.7 seconds, it'll see off plenty of supposed supercars.
Most comfortable cars on sale