Rolls-Royce Phantom - most comfortable cars
A name etched into the luxury car market, the Rolls-Royce Phantom lives up to its reputation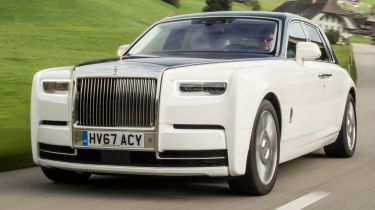 The eighth-generation Phantom isolates occupants from the outside world with sumptuous comfort in true Rolls-Royce fashion. With an all-new scalable platform which will form the basis of the entire Rolls-Royce range, there was a lot of pressure on the current Phantom when it was released in 2017 and it didn't disappoint.
Rolls-Royce proudly bestows the 'best car in the world' title on its flagship models and while that's open to debate, there's no arguing the Phantom is limousine of choice for those looking to flaunt their wealth. Starting at around £364,000, those that can afford a Phantom are likely to own yachts, mansions and private jets, but they'll feel right at home reclining in the back of this 'Roller'.
The addition of 130kg of sound insulation makes wind and road noise almost inaudible. There's also the customary drinks cabinet complete with whiskey glasses, decanter and champagne flutes. A touch of a button reveals a picnic table and TV screen.
If you're worried about potential spillages of caviar and champagne, don't be. The Phantom's ride is helped by Rolls-Royce's 'Flagbearer' technology which uses a camera system to scan the road ahead for bumps and potholes and adjusts the suspension accordingly.
Most comfortable cars on sale