Bentley Mulsanne - most comfortable cars
Hand-crafted Bentley Mulsanne delivers luxury and performance in spades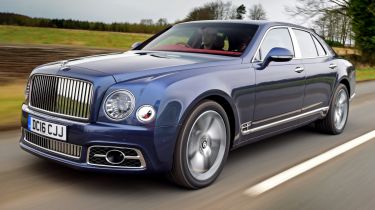 If you want a proper old-school luxury car, then the Bentley Mulsanne perfectly fits the bill. It harks back to a time when cars were built without a focus on the bottom line, so everything feels rock-solid and high class, from the pulls that open and close the air vents to the smooth action of the retractable rear tables.
Under the bonnet is an equally old-school powerplant. The 6.75-litre turbocharged V8 can trace its ancestry back to the heyday of the Rolls-Royce/Bentley partnership of the 20th Century. It packs huge power, so even though the Mulsanne weighs in at well over two and a half tonnes, it still hauls at a decent lick. Fuel consumption is pretty low, but if this unduly concerns you then the Mulsanne (or any other Bentley) probably isn't for you.
Inside, the matching grain veneers, deep-pile carpets and luxurious leather combine to give the Mulsanne the kind of high-class feel that only a premium British car maker like Bentley can create. Bentley even offers a 'Comfort Specification' which adds twin reclining seats in the rear with massaging functions and perforated leather. As with most cars in this list, a long-wheelbase version is the must-have for optimum spaciousness and comfort.
It's quiet and refined, whether you're cruising in town or cruising the autobahn at 130mph, and gives the sense of imperiousness that not many rivals can manage.
Most comfortable cars on sale