Welcome to Greatest Drives 2007
We've gathered together this year's hottest cars to fight it out on road and track for the title of Auto Express's Greatest Drives 2007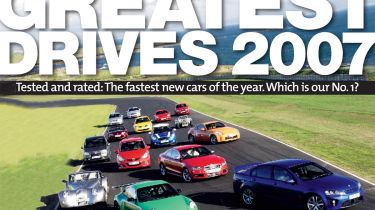 As tradition dictates, last year's winner is invited back - but every other contender has been launched in the past 12 months.
Candidates include top-end supercars, feisty hot hatches, brawny coupés and lightweight roadsters. Two cars - the Lamborghini Gallardo Superleggera and Lotus 2-Eleven - were unable to make it to the Anglesey test circuit for the main picture.
Our favourite track has undergone a major overhaul, and we think it's the best place in Britain to test road cars. We timed all our models over a lap - you can see how they ranked in our facts and figures boxes. And you can enjoy the action by downloading ringtones of each model's engine noise to your mobile, getting prints of the pictures and watching movies of all the cars at the track on our website. Enjoy!