Plymouth Road Runner Superbird
The Plymouth Road Runner Superbird has got to be one of the easiest cars to spot in a supermarket car park
The Plymouth Road Runner Superbird has got to be one of the easiest cars to spot in a supermarket car park - just take one look around and you'll see the gigantic rear wing. This car was built specifically to compete in NASCAR racing, with the retractable headlights and massive aero parts designed to improve the car's on-track performance.
The height of the spoiler, which bears a decal with the Road Runner cartoon character on the side, was partly to help it push down on the driven wheels, but there was also a much simpler reason for the height - it allowed the boot to open freely.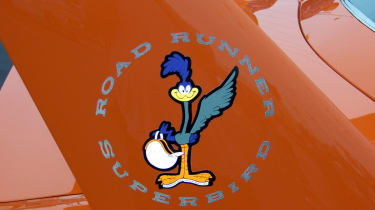 The Road Runner theme was also continued with the car's horn - it was designed to mimic the Looney Tunes cartoon character's famous "Beep, Beep" catchphrase. The car came with three engine options, all V8s, but the one to go for was the 7.0-litre Hemi, which was close to the race engines used in NASCAR.
1. Ford Mustang2. Chevrolet Corvette3. Plymouth Road Runner Superbird4. Cadillac Eldorado5. Ford Model T6. AC Cobra7. Ford F-Series8. Tesla Model S9. Jeep Wrangler10. Lincoln Town Car