The Ford F-Series is one of the biggest-selling American cars ever, and it's been the top-seller in the US for 32 years. The most recognisable model will always be the F-150 variant. The pick-up truck is much more popular in the US than it is here in the UK, with the covered load bay of a van being better-suited to British roads and weather conditions. In the US, the pick-up is king, though, whether it's for business use or simply as a family car.
The first-generation Ford F-Series truck was built in 1948, and like many American vehicles from that era it had the option of a big 5.5-litre V8 engine to go under the long bonnet. Some versions were even available with four-wheel drive, and the available gearboxes were all manual. The second-gen model, built from 1953, is a more common sight these days, with its droopy face and tall cab reflecting the stylish designs of American cars in the fifties.
The F-Series has been in production since then, racking up huge sales figures as it goes. The latest incarnation of Ford's iconic F-150 pick-up truck was unveiled at the 2014 Detroit Motor Show, and it's now a far cry from the low-tech trucks of the 1940s: its doors, bonnet, engine bay, load bed and tailgate are all made from aluminium, shaving over 300kg from the overall weight.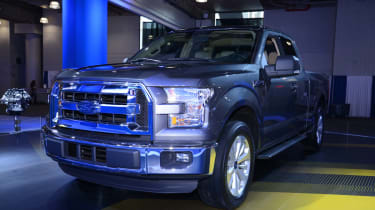 Plus, it now features LED lights, damped tailgate hinges and spotlights mounted on the mirrors that can be adjusted to illuminate the truck's surroundings. Plus, there's a 360 degree proximity display that can be called up on the dash, blind spot monitoring and forward collision alert. Although it won't officially go on sale in the UK (it's much too big for UK roads), expect the F-150 to be a huge seller - and that's why it's one of the best American cars ever.
1. Ford Mustang2. Chevrolet Corvette3. Plymouth Road Runner Superbird4. Cadillac Eldorado5. Ford Model T6. AC Cobra7. Ford F-Series8. Tesla Model S9. Jeep Wrangler10. Lincoln Town Car