SSC Ultimate Aero - world's fastest road cars
The Ultimate Aero held the fastest production car record briefly, until a faster Veyron turned up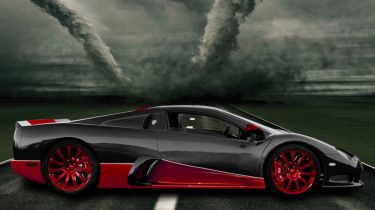 Top speed: 257mphPrice: $650,000
Like Koenigsegg, US supercar builder SSC proudly proclaims its Aero supercar has a theoretical top speed over 270mph, but unlike any Koenigsegg its 2007 top speed attempt was recognised by the Guinness Book of Records. A two-way maximum of 257.41mph made the SSC Aero 'officially' the world's fastest production car – beating the regular Bugatti Veyron – at least for a couple of years until the Veyron Super Sport arrived.
The SSC Aero featured a bespoke 6.3-litre twin turbo V8 with 1,287 claimed horsepower, but in the race for the world's fastest crown that's no longer enough.
SSC has a new model called the Tuatara under development with 1,350bhp from a quad-turbo 8.0-litre V8. They showed a prototype all the way back in 2011, but since then deadlines appear to have been missed, and things have gone a bit quiet at the company since 2014, although there are threats of production starting on the Tuatara in 2017.