Iso Grifo: Buying guide and review (1965-1974)
A full buyer's guide for the Iso Grifo (1965-1974) including specs, common problems and model history...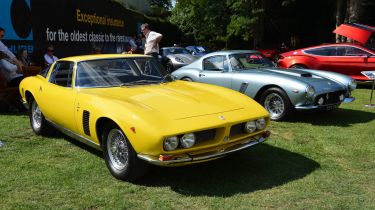 From a company that brought us the tiny Isetta bubble car, it seems hardly likely that one of their next creations would be a V8 powered GT car, however in 1965 Renzo Rivolta did just that with the magnificent Iso Grifo. 
Based on a shortened chassis of the Rivolta GT, Iso's first four-seater GT car, the Iso Grifo used a variety of American V8 engines to take the fight to the established leaders in the grand tourer segment. At launch the Bertone styled Iso Grifo was considered to be one of the most beautiful cars in the motoring world, and its swooping curves and masculine lines are still striking to this day. 
With the reliability and muscle of American V8 power with the head-turning good looks of its Italian-penned bodywork, the Iso Grifo really did offer the best of both worlds. Its performance was spectacular, making it one of the fastest production cars available for most of its production life.
A competition version of the Grifo named the A3/C was also manufactured during this time and caused some friction between Renzo Rivolta and Giotto Bizzarrini, the man behind the mechanicals of the Grifo, and the one who was promoting the A3/C. Ultimately the two parted ways, and future production of the two cars was split.
The rarity of these elegant grand tourers today places them at the upper spectrum of the pricing scale when they eventually do come up for sale. As an elegant means of transport the Grifo has few equals, its combination of sledgehammer performance and beautiful styling make it an irresistible choice for many. 
Which Iso Grifo to buy? 
The large power bulge on the bonnet on cars from 1968-on was added to accommodate the massive 7.0-litre engines, and its aesthetic appeal is a personal matter. Both Series 1 cars and Series 2 cars share the basic shape, and featured spec differences. 
The Series 1 cars were introduced in 1965, and gearboxes on these early cars were fitted with a four-speed manuals or optional three-speed automatic. Later Series II cars had an improved five-speed ZF gearboxes, making for more relaxed cruising ability.
Some cars have had different engines installed over the years, and it is important to ensure that any conversions have been done sympathetically.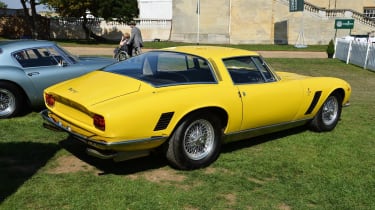 In 1970, the Series 2 was launched, offering a sleeker front end with partially-hidden headlights and new engines. These facelifted cars are very rare, with the custom made Targa versions being even rarer still.
Production ceased in 1974 with Iso S.P.A. closing its doors for good. A number of factors, such as slow sales and the international oil crisis proved too much for the company to handle. The Grifo was a very rare car, with just 412 units produced. Today, auction houses, specialists and Iso Grifo car clubs are your most likely places to find one for sale. 
Iso Grifo performance and specs
Model
Iso Grifo 7-litre
Engine
6999cc, 16valve OHV V8
Power
395bhp @ 5200rpm
Torque
460lb ft @ 3600rpm
Top speed
171mph
0-60mph
6.1 seconds
Fuel consumption
10mpg
Gearbox
Four-speed manual
Dimensions and weight
Wheelbase
2499mm
Length
4430mm
Width
1770mm
Height
1199mm
Weight
1430kg
Iso Grifo common problems 
• Parts supply: certain parts are an amalgamation of components from other manufacturers, so a bit of digging into the history of these cars is worthwhile if you are looking for specific components. There are also a handful of specialists who are very knowledgeable on the subject.
Partnership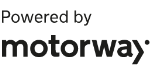 Need to sell your car?
Find your best offer from over 5,000+ dealers. It's that easy.
• Powerplants: engines were all American-sourced Chevrolet or Ford V8s, and there's a good supply of parts for these engines. Despite high power outputs, they are essentially unsophisticated amd un-stressed engines that don't require any special maintenance.
• Poor repairs: check around the car for evidence of badly repaired body panels. Most have had some level of restoration work, and the hand-built nature of the cars makes this a tricky business. Rust can be a problem throughout the car.
• Transmission: early cars with four-speed gearboxes were high geared, and most owners either changed diff ratios or converted their cars to the later five-speed units. 
• Suspension: suspension components are long lasting, and the most common issues are with rubber bushes wearing or cracking from age.
• Electronics: electrical systems can cause issues due to corrosion on the contact points. Replacement looms are available.
Iso Grifo model history 
1965: Iso Grifo Series I goes on sale with Chevrolet 5.4 litre V8
1966: First Grifo Targa built
1968: More powerful 7 litre power plant introduced necessitating a uniquely designed bonnet scoop to accommodate it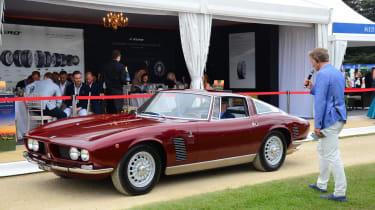 1970: Grifo Series II released with updated styling and new Chevrolet 7 litre engine. Revised styling with headlights partially covered. IR-9 Can Am version receives 7.4 Litre V8
1972: Grifo IR-8 replaces Series II now with Ford 5.8 litre power units. Taller bonnet scoop differentiates these versions from earlier cars
1974: Production ceases as Iso S.P.A. closes its doors 
Iso Grifo production figures 
| | |
| --- | --- |
| Model | Numbers |
| Series 1 | 322 |
| Series 2 | 78 |
Iso Grifo clubs and websites 
• www.isorestorations.com - Iso restoration company, using original parts and expertise• www.isobizclub.com - Iso and Bizzarrini Owners Club• www.isoregistry.com - Hugely useful resource, documenting chassis numbers and specs 
Iso Grifo summary and prices
As prices have skyrocketed in recent years, there are a few around that have not undergone some form of restoration. Exact values are hard to pin down, as some of the rarer cars are now commanding stratospheric prices well in excess of £350,000. Cars in average condition are trading for around £150,000 and up. 
Unfortunately, there have been a few cases of cars being incorrectly represented, so an absolutely thorough check of any potential purchase must be undertaken to ensure that you are buying exactly what is being advertised.
As a GT car with effortless performance and stunning looks, the Iso Grifo is a tough act to beat. Time has not diminished the allure of this classic car, and in today's market it makes for a potentially sound financial investment too.
Thinking of buying a future classic? Then take a look at these potential future classics...