BMW develops new road-sensing tech to optimise performance
New road-sensing system – a result of the partnership between BMW and technology firm Tactile Mobility - pre-configures the car for optimal grip and driving dynamics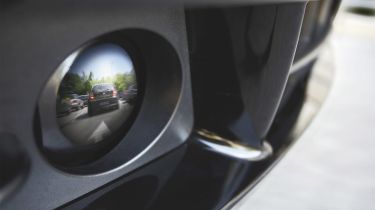 BMW has partnered with a technology and data company, Tactile Mobility, to develop a new road-sensing system that can read the surface beneath a car's wheels, adjusting the vehicle's dynamics to optimise performance and traction.
The technology will be fitted to BMW's next generation of cars, which will begin arriving in showrooms from 2021. The "tactile sensing" system uses "built-in, non-visual sensors" to compare road conditions with vehicle behaviour, drawing data from the suspension, tyres, brakes, and powertrain.
Readings create a 'VehicleDNA', a set of anonymised datapoints based on the car's behaviour. This information is paired with 'SurfaceDNA', an equivalent set of values relating to the road conditions, including grip levels and the curvature of the road.
As well as allowing the car itself to optimise its settings based on the road surface, Tactile Mobility's status as a data-providing company could open the door for anonymised data about road conditions, as well as vehicle and traffic information, being shared with local authorities. 
BMW has previously developed technology that can adjust a car's behaviour based on the road, with the systems fitted to the Rolls-Royce Phantom using sat-nav data to help choose the correct gear for bends, junctions, and hills, and a forward-facing camera providing information for the car's suspension. 
The firm's new tactile sensing technology system may well have applications for connected vehicles, which share data with each other as well as infrastructure installations, such as road-monitoring stations. Any future self-driving cars that may emerge over following years or decades could also benefit from the technology. 
Commenting on the partnership with BMW, Boaz Mizrachi, Tactile Mobility's co-founder and chief executive officer, said the system would provide "smart and future automated vehicles with the sense of 'touch' and show the commercial viability of tactile sensing technology".
While connected and autonomous vehicles (CAVs) may seem a distant dream for many, a report written by KPMG and commissioned by the Society of Motor Manufacturers and Traders previously estimated they will bring £51bn a year to the UK economy by 2030, and bring about 25,000 new automotive-sector jobs. Such vehicles are also predicted to prevent 25,000 accidents, and save 2,500 lives, by 2030.
Critics, however, highlight that predictions related to the advent of autonomous cars have been optimistic, and timelines overly ambitious. Only last year Ford admitted it had "overestimated" the arrival AVs, and rowed back on plans to have self-driving cars on the road by 2021. But while the arrival of autonomous cars may be uncertain, given value placed on consumer data - even if it is anonymised - connected vehicles are a more surefire bet.
Click here to read about the 10 most comfortable cars on sale...