"The new BMW 5 Series is everything the brand does best in one car"
Editor-in-chief Steve Fowler thinks the new 5 Series shows that BMW is in a good place to withstand any future challenges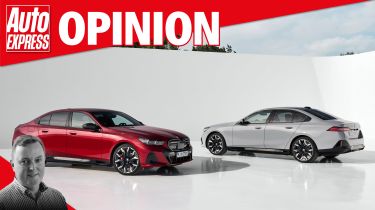 Most car makers have one model that is best described as a 'brand shaper'. Some are easy to spot – such as the Porsche 911 – others less so.
The BMW 5 Series isn't the big seller it once was, but it's still hugely important for the company across the world. And when you think of BMW, it's probably the car that springs to mind, along with the 3 Series.
I can only imagine the pressure that must heap on the team that has to bring a new version to market, especially when the market is moving so quickly.
I've spoken often about how well the company has managed its two British brands, MINI and Rolls-Royce, but that applies to the BMW model range, too. Where Mercedes is getting us (and itself, it seems) all confused with its EQ, Maybach and AMG sub-brands, BMW just keeps it refreshingly straightforward.
So enter the new 5 Series, which will be available in three flavours: petrol, plug-in or electric. Whichever one you choose will be a BMW 5 Series; it will look like a 5 Series and, crucially, it will drive like a 5 Series.
Branding is going to be one of many battlegrounds that car companies – new and established – will have to fight on in the coming years. In fact, when I was visiting BMW HQ this week, one of the subjects they wanted to know more about was my recent trip to China and the potential flood of BMW challengers that could be heading here.
The team were mindful that there were no laurels to be rested on, but felt that the depth of engineering and technical expertise they have, plus the strength of the brand, means BMW is in a better place than most to withstand future challenges.
Which brings us back to the 5 Series. Associate editor Sean Carson has already driven it and reports that it's as good as you'd hope and expect. The tech story is a strong one, and to my eyes it looks good, too, with a normal-sized grille! It bodes well for the new 5 Series as a brand shaper.
Click here for all the latest on the new BMW 5 Series...