Luxury BMW concept car previews next 7 Series
This is the BMW Future Vision Luxury concept, a car full of tech expected to appear on the next 7 Series
BMW has revealed the Vision Future Luxury concept at the Beijing Motor Show, previewing the kind of styling, tech and hi-tech construction we can expect from its premium saloons,like the 7 Series, in years to come.
The concept is similar in size to the luxury car and, according to senior vice-president of design Adrian van Hooydonk, "takes our thinking on modern luxury a logical stage further".
The styling is certainly futuristic, but still BMW. The oversized kidney grille, narrow headlights and Air Breathers in the front wings are all familiar styling themes.
Built from carbon fibre and aluminium, the concept has seat frames that connect to the chassis to act as load-bearing structures. That means there are barely any B-pillars, allowing for wide-opening coach doors to be fitted. This innovation won't make it to the next 7 Series, but the aluminium and carbon construction will.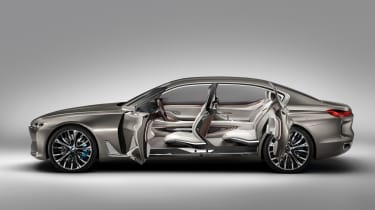 There's a screen displaying data such as revs and speed in the instrument cluster, and another for infotainment in the centre console. Most information, however, comes from the Vision Head Up Display, which can highlight things such as speed limit signs. It also lets you know when traffic lights will turn green. Passengers get their own display, where they can browse the Web without distracting the driver.
In the rear, passengers have individual screens of their own that are controlled through a removable tablet, with the focus on streaming online media. Deep carpets, high-quality leather and layered wood, plus ambient lighting, help create a real premium feel.
Expect to see some of the Vision Future Luxury's features on the next-generation 7 Series, which is due to arrive in showrooms late in 2015.