'Autonomous cars will be ready long before our roads are'
With autonomous cars fast approaching, the laws to govern them are still some way off, says Steve Fowler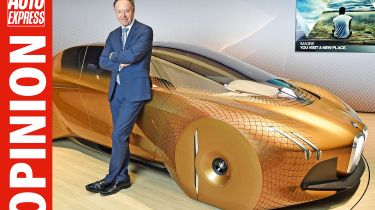 If there's one person worth listening to on the subject of technology, it's BMW's British board member (and Auto Express Brit List winner) Ian Robertson. Having launched BMW's i brand to establish his company at the forefront of electric car tech – which is now paying off handsomely – he's now at the forefront of BMW's autonomous push.
"We're building a big resource base in-house to take this forward," Robertson told us. "We're building a new campus in Munich and in the second half of this year we'll put forty 7 Series on the road with the autonomous next steps on board. Over the next four-and-a-bit years we'll develop the tech and that will be delivered within the next i car."
• Everything you need to know about driverless cars
Another big step was the acquisition of Here from Nokia (with Daimler and Volkswagen). "That's moving quickly," continued Robertson.
"The reason we did it was to get 20 million vehicles that could give us real-time software updatability. Mapping today is accurate to 6-10 metres – for autonomous driving we need 6-10cm."
"We've got systems that are developing the predictability of traffic lights, so it will slow the car as it knows the traffic light is changing so you don't stop before you get going again. It's using traffic flow, navigation data and cars communicating where they are and how fast they're moving."
So the cars are ready, but what about legislation? "We want legislation and technology running in parallel, and I'm not seeing that," admitted Robertson. "The discussion needs to be open and there; at the moment it's fragmented."
That's a worry. Robertson reckons we could end up with cars allowed to drive autonomously in some towns and cities and on some roads, not others – in the same country! Let's hope governments don't allow that to happen.
Are you excited about the future of autonomy, or are you dreading the day drivers make way for computers? Leave us your thoughts below...