MG ZS EV vs Hyundai Kona Electric: 2022 twin test review
Entry-level electric SUVs from MG and Hyundai are put through their paces to find the penny-pinching champion
The words "budget" and "electric" seem to sit a little awkwardly beside each other in the new-car world at the moment. While the cost of batteries has tumbled significantly since the early mass-market EVs from as little as 10 years ago, in many cases electric models cost more than their fossil-fuelled alternatives. This forces many brands to pitch their EVs as high-spec premium models, pushing costs up even further. 
However, dig a little deeper and you'll find some fantastic exceptions to the trend, and we've got two of them here. The new arrival comes in the form of the refreshed MG ZS EV, which has received a wide-ranging update focusing on both style and substance. 
It's going up against the Hyundai Kona Electric, a car which sits at the more affordable end of the EV spectrum and is also among the cheapest to run, while being highly rated by owners. So does the updated MG have what it takes to overcome the Hyundai in this test?
MG ZS EV
| | |
| --- | --- |
| Model: | MG ZS EV Standard Range Trophy |
| Price: | £31,995 |
| Powertrain: | 1x e-motor, 51.1kWh battery, 174bhp |
| 0-62mph: | 8.2 seconds |
| Test efficiency: | 3.7m/kWh |
| Charging: | 100kW (0-80% in 36 min) |
The current MG line-up is quickly gaining a reputation for delivering affordable yet accomplished performance, and its EVs are spearheading the charge. Our Standard Range Trophy test car costs £31,995, which rises by £545 to £32,540 when you add Monument Silver paint.
Design & engineering
From the off, there's one thing that the MG ZS and the Hyundai Kona have in common: both are available with combustion engines, but they were designed to accommodate electric powertrains from the outset. 
That forethought is a good thing when it comes to the packaging of the battery, motor and power electronics – and it means that when we come to the practicality sections later, we'll see that there's little compromise in either car in terms of space. 
The MG is the larger model in every direction. There's only a matter of millimetres in it in terms of width, but the ZS is 118mm longer and 79mm taller than the Kona. However, at 1,610kg, it's also 75kg heavier than its rival.
A big reason for that difference is that the MG's battery pack is larger; it offers 51.1kWh of capacity compared with the 39.2kWh unit in the Kona. However, there's very little difference between them for claimed range, with the MG rated at 198 miles based on WLTP data to the Kona's 189 miles. The MG has more power, too; the 174bhp it sends to the front wheels is 40bhp up on the Kona.
If there's one thing that does betray the MG's budget roots, it's that the steering column doesn't adjust for reach – disappointing when this is standard on the majority of new cars these days. It's a shame, because slightly fiddly climate controls aside, the rest of the cabin doesn't feel particularly cheap or nasty; there are plenty of soft-touch materials covering the dash and doors, and the high driving position offers a decent view out. 
Driving
Out on the road, the MG's strongest quality is its performance. It'll do the 0-62mph dash in 8.2 seconds, which means that there's more than enough pace for a sensible family car. As with most electric vehicles, the constant, linear stream of power means that it's very easy to control the throttle, which is ideal when manoeuvring in tight spaces. 
Partnership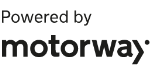 Need to sell your car?
Find your best offer from over 5,000+ dealers. It's that easy.
Three driving modes adjust the motor's characteristics, with throttle response becoming noticeably duller in Eco mode and sharper in the Sport setting. The motor emits only a gentle whine under acceleration, and the brake regeneration system is smoother than the Hyundai's.
Less smooth than the Kona is the ride comfort. The ZS shows a little lack of sophistication here; on less than perfect surfaces, it tends to feel a tad busy, fidgeting over small bumps which the Hyundai manages to iron out. Knocks and noises from the suspension and tyres aren't as well insulated here than in the Kona either. 
The steering is light enough around town, but the Kona's marginally smaller dimensions, and its tighter turning circle in particular mean that the MG isn't quite as easy to drive around town – not that it's particularly intimidating.
Practicality
The MG's size advantage really reveals itself when it comes to interior and storage space. At 470 litres, the ZS's boot is significantly larger than its rival's, which is only 332 litres. The base of the boot is very deep, but can be raised with a false floor – although even in its highest position, the load lip is quite high, which makes it tricky to lift heavy items in. 
The Hyundai's load lip is near level, and unlike the MG's 40:60-split rear seats, the backrests in the Korean car fold almost completely flat. In this position, the Kona regains ground; it pips the MG's 1,100-litre volume in two-seat mode by 14 litres.
There's a decent level of storage inside the MG. Roll back the sliding lid on the centre console and it reveals a pair of cupholders, while there's another spacious bin behind them. If there's room for improvement, then the glovebox could be a little larger, and the sides of the door bins are quite shallow, so while larger items such as bottles will fit, they don't feel like they're held in place very well. 
Occupants are well catered for when it comes to charging portable devices though, because the ZS offers USB and USB-C connections, as well as wireless charging.
Ownership
Both of these cars were awarded a maximum five-star safety rating when they were tested by Euro NCAP. The MG earned its score in 2019, two years later than the Kona, and it particularly impressed in the adult occupant segment, scoring 90 per cent. 
In the top-spec trims we're testing here, both cars have autonomous emergency braking with pedestrian detection, lane-keep assist and blind-spot warning systems fitted as standard. The Hyundai also has a lane-following system, which under the driver's guidance can steer itself within clearly marked lanes, such as on motorways.
Running costs
Our time driving the MG ZS resulted in overall efficiency of 3.7 miles per kilowatt hour – a decent, if not spectacular, figure. If you spend a lot of time driving at low speeds, you can expect a little closer to 4.5m/kWh, and more like 3.2m/kWh on motorways. That figure translates into a real-world range of 189 miles, and at a charging rate of 28p/kWh a full charge costs £14.  
The Kona is more efficient, achieving an impressive 4.2m/kWh. Its smaller battery means that the range is shorter though, at 165 miles, while a full recharge costs about £11. 
Tester's notes: "We're fans of the MG's kerb-angle cameras; they switch on when you use the indicators at low speeds, so there's no excuse for scuffing those wheels."
Hyundai Kona Electric
| | |
| --- | --- |
| Model: | Hyundai Kona Electric 39kWh Premium |
| Price: | £31,800 |
| Powertrain: | 1x e-motor, 39.2kWh battery, 134bhp |
| 0-62mph: | 9.9 seconds |
| Test efficiency: | 4.2m/kWh |
| Charging: | 50kW (10-80% in 47 min) |
We're very familiar with the Kona Electric, having previously run one on long-term test. But in the face of new rivals, how will this facelifted model stack up? Here we're trying the smaller battery option in Premium trim, yours for £31,800.
Design & engineering
Since its launch in 2018, the Kona has been offered with a variety of powertrains, including petrol, diesel and hybrid. However, our pick of the range has always been the fully electric model, which joined the line-up soon after the combustion-engined options. 
In 2020, the entire range received a nip and tuck. From a cosmetic point of view, this introduced a sharper front-end design – still with a smoothed-out grille to set the electric model apart from piston-powered Konas – and tidied up the light clusters in the rear bumper. Inside, the cabin benefitted from a revised infotainment system and digital instruments.
The high centre console makes you feel much more cocooned than in the upright MG, while the driving position – complete with telescopic adjustment on the steering wheel – has a much wider range of movement than the ZS's, so it's easier to get comfortable. There are fewer soft surfaces than in its rival, but build quality feels solid enough.
The Kona Electric comes with two battery options. A larger 64kWh version promises 300 miles on a single charge, but like-for-like it's £3,950 more expensive than the 39.2kWh car we have here. If you mainly only cover short journeys, this is the one to go for. Saying that, the claimed 189-mile range for this model is still not to be sniffed at.
While the Kona's electric motor is down on power when compared with the ZS's, it's certainly not lacking in torque; it makes a hefty 395Nm, which is 115Nm more than its rival.
Driving
The combination of that high torque figure and the Kona's eco-biased tyres means that performance feels quite lively; it's quite easy to chirp the fronts from a standstill if you pull away in a hurry. The lack of power becomes evident once you move out of town, though. The Kona isn't slow, but acceleration tails off sooner than it does in the MG.
The Kona's powertrain is an impressive one overall, but even given the few years since its release, there are occasions which show the rate of progress with still-developing electric technology. In certain situations, such as the transfer between brake regeneration and acceleration, the motor's response can occasionally feel jerky, while the automatic brake regen itself can be unpredictable, slowing the car down more or less than you expect when approaching a junction. 
Fortunately, the Kona's rate of motor deceleration can be adjusted manually – and easily – via steering wheel-mounted paddles. The MG has a KERS switch on the centre console that does the same job, but the Kona offers five different settings compared with the three you get in the ZS.
Elsewhere, the Kona Electric feels largely similar to the rest of the line-up. That means the steering is well judged, because it's light enough around town but offers sufficient weight to feel reassuring at speed. Ride comfort is a little less floaty than in the MG at higher speeds and a little more composed over slower, rougher surfaces. The Kona is more stable through the corners, and it's also slightly quieter on the move – but there's very little in it. 
Practicality
Not only does the MG have an edge when it comes to load-lugging, but it also has more space in the back for people, too. There's not much difference in headroom, but the ZS has several inches more knee room, so it's the much better option for carrying taller adults. If you need to squeeze in three for a shorter trip, though, the Kona would be our choice; the centre seat is reasonably wide and soft, but those in the middle of the MG will feel rather perched on a high seat with a hard backrest.
If you want to carry small children, the Kona is also better here. Installing a child seat is easy because the mounting points are easy to access. In contrast, you need to prise back the upholstery in the ZS just to reach them, which isn't ideal while trying to wrestle with a heavy seat.
Further ahead, the Kona's high 'floating' centre console creates space for a large shelf beneath. The latest and largest smartphones don't fit too well on the dedicated cubby, but the door bins are more generous here than in the MG. While the boot volume is down on its rival, the Kona at least offers a decent space beneath the floor that's large enough to hold the charging cables.
Ownership
At first glance, Hyundai's 2022 Driver Power scores aren't mind-blowing, with the brand taking a just-above-average 11th out of 29 in the manufacturer rankings. 
However, dive into the individual model scores, and the Kona finished an impressive fourth overall and second in our EV survey, so it should be a satisfying car to own. It performed better than MG ZS EV, which managed 26th out of 27 models rated in our electric car pol. 
Running costs
Electric cars are proving to be very desirable on the used car market these days, and as such both of these challengers hold an impressive amount of their original value after three years. It's the Hyundai that leads the way, though; it's predicted to keep hold of 57.5 per cent of its asking price, compared with the MG's 51.7 per cent. 
For two cars that are almost identical in cost when new, that's the difference between the Kona being worth £18,275 three years down the line, compared to the MG that'll be worth £16,525.
Tester's notes: "The Kona Electric set a Guinness World Record for 'the highest altitude achieved in an electric car'. It was driven to a height of 5,731 metres."
Verdict
First place: MG ZS EV
Spacious, quick and with a long range, the MG ZS EV has plenty of appeal. The cabin tech is much more slick than you'd expect from a car with budget pretences, too. There are one or two areas where the MG isn't quite up to the Kona's level, but that can be excused when the monthly payments are so much cheaper. Our Affordable EV of 2022 is a deserved winner here.
Second Place: Hyundai Kona Electric
In some areas, the Hyundai Kona Electric has an advantage over its rival here. Its key strength is its efficiency, which means that it's cheaper to recharge than the ZS. It's a little more refined, and the ride is smoother, too. However, the MG is much cheaper to buy on finance, it boasts a similarly slick infotainment set-up, and has a much larger boot and more rear passenger space.
Other options for similar money
New: Vauxhall Mokka-e GS Line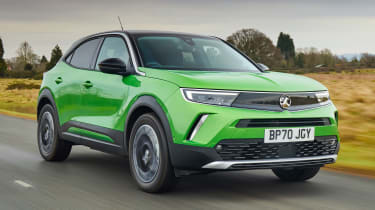 Price: £32,685 
Powertrain: 50kWh batt, 134bhp
The entry-level GS Line Mokka-e is just a touch more expensive than this pair, but it makes up for it with a slick cabin design and a refined drive. Its official 209-mile range is great, too, although it's a little less spacious than the MG inside.
Used: Kia Soul EV First Edition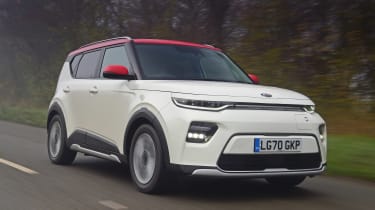 Price: £32,000 
Powertrain: 64kWh batt, 201bhp
If you're after more style and a longer range, then a two-year-old Soul EV costs roughly the same as our two contenders. A 64kWh battery offers a 240-mile real-world range, and its 201bhp motor gives strong performance, too.
Figures
| | | |
| --- | --- | --- |
|   | MG ZS EV Standard Range Trophy | Hyundai Kona Electric 39kWh Premium |
| On the road price/total as tested | £31,995/£32,540 | £31,800/£31,800 |
| Residual value (after 3yrs/36,000) | £16,525/51.7% | £18,275/57.5% |
| Depreciation | £15,470 | £13,525 |
| Annual tax liability std/higher rate | £128/£256 | £127/£254 |
| Annual electricity cost (12k/20k miles) | £908/£1,514 | £800/£1,333 |
| Insurance group/quote/road tax cost | 28/£611/£0 | 21/£705/£0 |
| Servicing costs | N/A | £308 (3 years) |
|   |   |   |
| Length/wheelbase | 4,323/2,581mm | 4,205/2,600mm |
| Height/width | 1,649/1,809mm | 1,570/1,800mm |
| Powertrain | Front e-motor/li-ion battery/fwd | Front e-motor/li-ion battery/fwd |
| Peak power | 174bhp | 134bhp |
| Peak torque | 280Nm | 395Nm |
| Transmission | Single-speed/fwd | Single-speed/fwd |
| Battery capacity/usable | 51.1/51.1kWh | 39.2/39.2kWh |
| Boot capacity (seats up/down) | 470/1,100 litres | 332/1,114 litres |
| Kerbweight/payload/towing capacity | 1,610/450kg/N/A | 1,535/485kg/N/A |
| Turning circle | 11.2 metres | 10.4 metres |
| Basic warranty/recovery | 7yrs (80,000)/1yr | 5yrs (unlimited)/1yr |
| Driver Power manufacturer/dealer pos | 28th/N/A | 11th/12th |
| NCAP: Adult/child/ped./assist/stars | 90/85/64/70/5 ('19) | 87/85/62/60/5 ('17) |
|   |   |   |
| 0-62mph/top speed | 8.2 secs/108mph | 9.9 secs/96mph |
| AE economy (miles/kWh)/range | 3.7/189 miles | 4.2/165 miles |
| Claimed range (WLTP) | 198 miles | 189 miles |
| Charging capability | 7.2/100kW | 11/50kW |
| Charging time | 8hrs/36 min* | 6hrs/47 min* |
| CO2/tax bracket | 0g/km/2% | 0g/km/2% |
|   |   |   |
| Airbags/Isofix/park sensors/camera | Yes/yes/rear/yes | Yes/yes/f&r/yes |
| Auto/lane keep/blind spot/AEB | Yes/yes/yes/yes | Yes/yes/yes/yes |
| Climate control/cruise control | Yes/yes | Yes/yes |
| Leather/heated seats | Faux/yes | Yes/yes |
| Met paint/LED lights | £545/yes | £565/yes |
| Keyless go/power tailgate | Yes/no | Yes/no |
| Sat-nav/digital dashboard | Yes/no | Yes/yes |
| DAB/connected apps | Yes/yes | Yes/yes |
| Wireless charge/CarPlay/Android Auto | Yes/yes/yes | Yes/yes/yes |