'Britain is the best place for premium, luxury and performance car manufacture'
Mike Rutherford believes nowhere else in the world beats the UK for cool and innovative design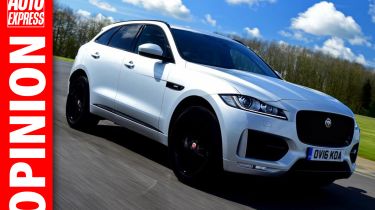 Heard the one about the Englishman, German, Indian and Scotsman who all liked the company so much they, er, took it over? The four in question are car addicts. They didn't exactly meet at a session of Autoholics Anonymous but, thankfully, they did somehow team up under extraordinary circumstances to rescue Jaguar.  
And not content with saving the company, they achieved for Jaguar what its previous owner, Ford, couldn't. In short, these guys have transformed the firm from struggling, quintessentially English bit-player to genuine world champion.
Jeremy Hicks (Englishman) is Jaguar UK's brilliant MD-cum-salesman who assured me that if the F-Pace first won the Auto Express Car of the Year title, then World Car of the Year months later, he'd halt Jag's production line so his crucially important factory workers could see, touch and enjoy the awards they played such a huge part in winning for their grateful employer.
• Design Award 2017 - Jaguar I-Pace
Sure enough, Hicks effectively staged a joyous and unprecedented party on the line last Tuesday. Jag's genius CEO, Ralph Speth (Germany), was there, and although Ratan Tata (India), the company's owner/guru/financial saviour, couldn't make it, Ian Callum (Scotland) did attend to collect his World Car Design of the Year trophy, which he shared with colleagues of all ranks.
Editor-in-chief Steve Fowler assured everyone that the F-Pace was – and still is – so good that he had no choice but to hail it Auto Express Car of the Year 2016-17. The same goes for its World Car of the Year 2017-18 status. And who'd argue that Callum didn't deserve to be named world's best car designer for his work over the last year or so?
But that was then and this is now. The Land Rover Discovery has just inherited the Auto Express Car of the Year crown for 2017-18, and the Range Rover Velar is coming soon along with Jag's I-Pace and E-Pace. Not until you see them in the flesh will you appreciate how fine they are.
Other countries won awards, too, but thanks to Jaguar Land Rover and supported by British-based rivals like Aston Martin, McLaren, Rolls-Royce and Bentley, this is the hottest place on the planet for premium, luxury, performance and cool car design and manufacture right now.
Hope – and expect – more of the biggest and most important car awards trophies to end up on British soil... where they often belong.
Do you agree or disagree with Mike? Post your thoughts in the comments area below!