Hyundai plans three new all-electric cars by 2022
Hyundai to fight on three fronts with range of new hybrid, fuel cell and all-electric cars, including a 311-mile long-range EV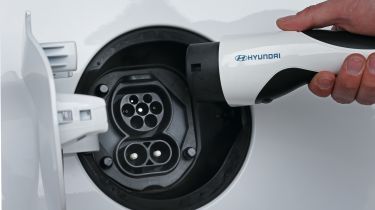 Hyundai has revealed an 'eco-development roadmap' that will see the company bolster its line up of low and zero emission vehicles to 31 global models in total by 2020, when combined with new cars from sister brand Kia.
The firm plans to expand beyond the all-electric version of the Ioniq to create a broad line-up comprised of small EVs, to more luxury offerings with longer ranges, and Hyundai has announced three new all-electric cars are on the horizon.
• Best electric cars on sale 2017
An all-electric version of the new Kona crossover will make its debut in the first half of 2018, boasting a range of 242 miles. As revealed by Auto Express earlier this year, the firm is plotting an even smaller A-segment SUV to sit beneath it in 2020, so it's not out of the question that electrification could stretch even further down the food chain in the future in the upcoming sub-Kona model.
Hyundai has also revealed it is planning a long-range EV for a market launch after 2021, which will boast a range of at least 311 miles. A luxury Genesis badged EV is also planned in 2021.
The firm will expand its line-up through the development of its first dedicated all-electric vehicle platform, the details of which are still under wraps. However, Hyundai says the new architecture will allow it to produce "multiple models with longer driving ranges".
A variety of powertrain options are currently being developed, and the firm is plotting fresh hybrids alongside new EVs. Fuel cell technology is due to play an important role too, with the arrival of a new hydrogen fuelled SUV in 2018 which Hyundai has revealed in pre-production form. The firm will also unveil a hydrogen-powered bus towards the end of 2017.
Much of the planned expansion will see new hybrid SUVs and large vehicles take their place in Hyundai's line-up. Plug-in four-wheel-drive powertrains will be developed, and front-engine, rear-wheel-drive cars building on Hyundai's plug-in technology have also been touted.
Are you excited by Hyundai's upcoming EV, fuel cell and hybrid push? Tell us in the comments...