New Hyundai city car crossover planned as Kona's 'baby brother'
Korean brand confirms plan for A-segment SUV by 2020 - as well as a full EV version of new Kona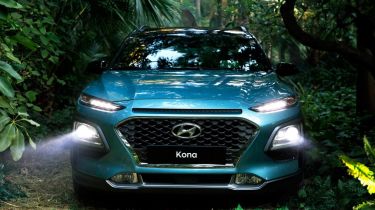 Hyundai is planning to give its new Kona SUV a baby brother - as well as launching a larger model than the Santa Fe as it tries to expand its off-roader line-up.
Speaking at the reveal of the Kona in Seoul, Hyundai's vice-chairman Chung Eui-sun announced that the company would "reflect customers' needs" by expanding its SUV range further over the next three years. "We have analysed the needs of our customers in Los Angeles and other cosmopolitan cities," Chung said. "As you know, the SUV segment is reaching saturation but we believe there's greater potential for growth in the B-segment.
• Best crossovers on sale right now
"Our plan is to come up with A-segment SUV - smaller than Kona - by 2020 - and so we want to embrace from A-segment to E-segment. We're also planning to roll out an E-segment SUV that's bigger than Santa Fe. We want our line-up to reflect our customers' needs."
It's likely that Hyundai's European and UK divisions would consider selling a smaller SUV; however, an even bigger car than the Santa Fe would probably be restricted to markets like North America.
Hyundai's management confirmed at the Kona launch event that an EV version of the new Nissan Juke rival will make its debut in 2018, with a range of "more than 390km" (242 miles) on a single charge.
Are you excited about Hyundai's plans to extend its SUV line-up? Let us know below...