'Is a 1,000bhp hypercar really relevant these days?'
Editor-in-chief Steve Fowler looks at the new Mercedes-AMG Project ONE and wonders whether it has a place in the modern world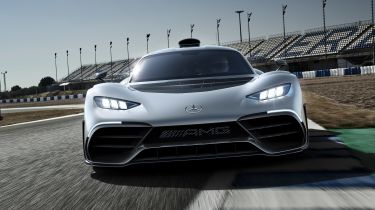 The undoubted star of this week's Frankfurt Motor Show is – as you might expect – a car so bold and so brazen that it deserved its place in history even before the covers came off.
Mercedes-AMG's Project ONE hypercar may not be a beauty, but you can't argue with the depth of engineering that has gone into what Mercedes describes as "the first Formula One car with MoT approval". And, you'll be pleased to hear, much of that incredible work was done by Mercedes-AMG's talented workforce here in the UK.
• Everything from the 2017 Frankfurt Motor Show
You can read the full story and marvel over the Project ONE's stats, but you have to wonder whether there's still a place for a road car with this level of performance in 2017?
The biggest issue is where you can enjoy the outstanding performance on offer these days, although one would hope that your multi-million pound outlay would buy you some serious track time to fully explore the Project ONE (and Lewis Hamilton to show you how).
As someone who believes that 0-30mph is a more important indicator of fun these days than 0-60mph, I wonder if the promised instant acceleration from the Project ONE's electric drivetrain is a clue to the real relevance of this car.
What the Project ONE can do that hypercars from Ferrari, McLaren and Porsche can't do is to be a test bed for cars you and I can actually buy. The clever thinking that's gone into the Project ONE will help in the development of cars like the humble A-Class: the advanced electrical systems and motors, the smart use of space, the lightweight technology.
This is the first time for a long time that you can actually see how Formula One can benefit real cars, and that makes the Mercedes-AMG Project ONE very relevant indeed.
Do you agree with Steve? Is there is still a place for hypercars? Let us know below...