Koenigsegg Agera RS breaks 0-249-0mph world record
The Agera RS smashed the previous record set by the Bugatti Chiron by over five seconds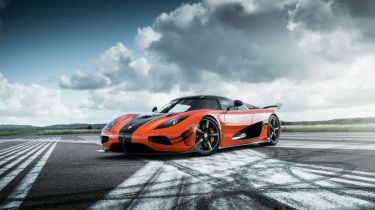 Koenigsegg has broken Bugatti's 0-400-0km/h world record with its Agera RS setting a new time of 36.44 seconds. The record breaking run was over five seconds quicker than that of the Bugatti Chiron.
Koenigsegg's new world record was conducted on the 1 October at the Vandel Air Basde in central Denmark. The team used the extreme RS version of the Agera hypercar, with the standard 5.0-litre twin-turbo V8 uprated to 1,360bhp. The model weighs just 1,395kg, almost 600kg less than the Bugatti. 
It's the latest in a long list of world records set by the Koenigsegg Agera range. In 2011, the Agera R set six world records, including the fastest 0-300-0km/h time for a road legal production car at 21.19 seconds. It also set the 0-200mph record at 17.68 seconds.
Koenigsegg's long-term rival in the sub-250mph bracket has been Bugatti. Its latest offering, the Chiron, previously held the record with ex-Formula One driver Juan Pablo Montoya setting a time of 41.96 seconds. The small Swedish outfit beat Bugatti's time by 5.5 seconds under the control of test driver Niklas Lilja. 
Only 25 examples of the Agera RS will be built. Each car will be handcrafted in Koenigsegg's tiny factory in Angelhom, Sweden with 10 of the 25 sold prior to its unveiling at the Geneva Motor Show in 2015.
Read our round-up of the fastest cars in the world here...