'Most British car makers remain in rude health'
Mike Rutherford celebrates the prosperity of Brit-based car consumers, now that the 2017 EU car sales car have been counted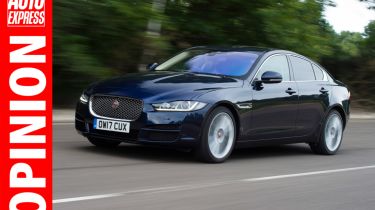 The definitive numbers for European Union car sales in 2017 are just in, and they offer further proof that Britain, most British car makers and millions of Brit-based consumers remain in rude health.
The overwhelming majority of EU countries are still envious of our ability to make, purchase and drive huge quantities of motor cars, as we continue to punch well above our weight. Last year wasn't our best, but as in previous years we were wealthy, confident and fortunate enough to buy millions of brand new cars for ourselves.
Yet during the same period, motorists living in around half the lands in the EU only had the wealth, confidence and good fortune to buy such vehicles in their thousands or tens of thousands. Put another way, consumers in the UK still bought, and continue to buy, many more cars per month than motorists in 14 EU countries purchase(d) all year.
It's true that across the EU, car sales were up by an average 3.4 per cent in 2017, whereas they were down 5.7 per cent here. Yet that's largely because the UK Government declared war on diesels, as well as failing to deliver the state-sponsored scrappage scheme countless existing motorists were, and still are, expecting before investing in their next new cars.
Also, when, say, Lithuania 'showed Britain how to do it' in 2017 with a colossal 27.3 per cent increase in registrations, its sales actually went from a lowly 20,000 to a mere 26,000 for the year. During the same period in the UK, our numbers dropped from a highly impressive 2.69 million to a still highly impressive 2.54 million. Only Germany (a considerably larger country with a much higher population) on 3.44m was ahead of Britain.
• UK's favourite new car colours 2017
Other larger lands such as France (2.11m), Italy (1.97m) and Spain (1.23m) were way behind us. All the other EU countries were in a massively lower league. It's great that Jaguar saw its sales rise across Europe. Other big winners included Alfa, Dacia, Kia, Peugeot, Toyota and urban car king, Suzuki, while DS, GM and Honda had a hellish 2017 trying to sell cars in Europe.
Thanks largely to Skoda and SEAT, plus Porsche, the VW Group enjoyed a leap in registrations across the region. But, significantly, sales of Volkswagen-badged cars were down in Europe. Why? The answer is obvious. The ongoing, self-inflicted Dieselgate debacle isn't hurting the Wolfsburg-based group nearly as much as it's irreparably damaging the once-legendary VW badge. Companies with image problems occasionally rebrand themselves to save face. Maybe it's now time for VW to rename its troubled self. But to what?
Do you share Mike's enthusiasm for the UK's high volume of new car sales, or should we be trying to slow down the rate our roads are clogging up?