'UK carmakers should be as proud, bold and active as the Americans'
With optimism in the US automotive sector, Mike Rutherford thinks there's much the UK can learn from our American cousins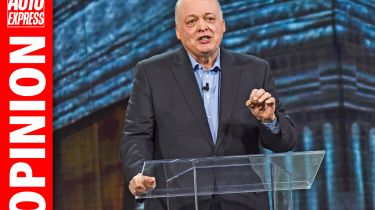 There's been much hard, straight, optimistic US talk in recent days. Roads, automotive jobs and retailing plus ground-breaking car deals have been at the heart of the dialogue. And the uplifting tone is no doubt bringing smiles to American faces.
"We will build gleaming new roads, bridges, highways," Donald Trump and transportation secretary Elaine Chao promised last week when discussing their imminent $1.5 trillion spending blitz on infrastructure. Trump is even said to be donating a large chunk of his presidential salary to America's transport cause. Can't remember the last time I heard a British leader dare utter politically incorrect swear words such as road, motorway or bridge; never mind offer some of his/her personal money to help fund them.
• Opinion: Trump's domestic auto firms are increasingly weak
Incoming CEO Jim Hackett is being brutally (or stupidly?) honest by conceding that Ford has "not done enough to be fit". To turn things around, it wouldn't be a surprise to see Ford concentrating more on big pick-ups and profitable SUVs and less on the superminis and city cars that have notoriously tough margins.
Over the road at GM, CEO Mary Barra is threatening a full or partial pull-out from South Korea, before moving investment cash and jobs from Asia back to her native Detroit. As I've mentioned before, Korean auto workers are among the most expensive on earth, and are clearly pricing themselves out of the market.
Chrysler CEO Sergio Marchionne is confessing it was "an error" to build a plant in Mexico. He vows to return it to home soil in or around Detroit. Shahid Khan, a parts manufacturer, is not only putting the finishing touches to Detroit's biggest automotive factory for 20 years, but also plans to "prioritise city residents for jobs", thereby reducing the need for workers to commute long distances or move home in order to earn $20 to $30 an hour.
Legendary American car guy Roger Penske has just announced massive expansion plans for his "better than new" used car outlets. Before you ask, it's the almost-unbelievable lifetime warranties on some of the second-hand motors he sells that makes them "better than" factory fresh. And the US motor industry's greatest living legend, 86-year-old Bob Lutz, has, in retirement, told one of the world's hottest automotive groups, Geely, to make him an offer he couldn't refuse for his VIA automotive business. And it did! Only in America!
I think it's time for UK movers and shakers to be as proud, bold and active as the Americans. And let's learn lessons from our US cousins on how to respect, acknowledge and celebrate the national flag. Ours, of course. Not theirs.
Now read about Mike's views on Donald Trump's ambitions to preserve vehicle production roles in the US…