Geely considering £1.5 billion investment to boost Lotus
Lotus majority stakeholder poised to spend billions on British brand, according to sources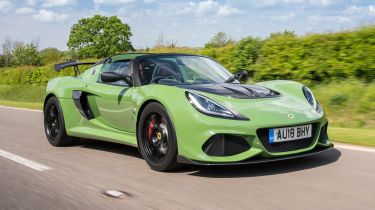 New Lotus controller Geely is preparing to invest over £1.5 billion on the British sports car brand as it aims to push Lotus to the front and centre of the sports car market once again. That's according to Bloomberg, citing sources familiar with the matter.
The Chinese car giant - which owns Volvo, Polestar, the London Taxi Company, Lynk & Co, Yuan Cheng Auto and has a 49.9 per cent stake in Proton - now also owns 51 per cent of the British brand after completing a deal last September.
• Lynk & Co reveals production ready SUV at Shanghai Motor Show
Bloomberg says that Geely plans to build new Lotus production facilities and research centres in the UK, and that the the company is planning to buy itself an even larger stake in Lotus by purchasing more shares of Malaysian minority stakeholders Etika Automotive.
Bloomberg says that Geely is aiming to build itself into one of the automotive industry's biggest groups, and that its plans for Lotus could see the British brand revived and repositioned into a genuine Porsche competitor. Bloomberg also claims that the first phase of Geely's Lotus expansion will see around 200 new engineers hired and an expansion of the firm's current plant in Hethel, Norfolk.
Geely executive vice president and chief financial officer, Daniel Donghui Li, has been chairman of the new look Lotus board since the acquisition of the brand.
Last September, concluding the deal, Daniel Donghui Li said: "With the transaction completion we now look forward to working with our partners to develop the Lotus brand into a globally competitive brand and a well recognised leader in the sports car market."
While news of fresh investment sounds exciting, Geely's real desire to acquire Lotus could stem from the marque's expertise in composite materials and lightweight construction methods. Geely sees this technology as transferable across the vehicles it sells in China. Lighter cars will help the brand meet stringent future emissions targets in its home Chinese market.
Is new Chinese ownership a good thing for Lotus? Let us know your thoughts in the comments.