'Two unlikely stars of New York are the venue itself and its British boss'
Mike Rutherford takes a closer look at the Javits Convention Centre, the venue for the 2018 New York Motor Show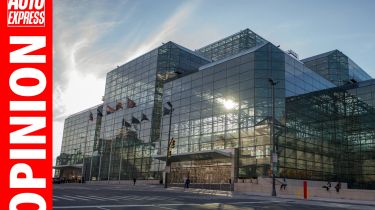 Two of the unlikely stars of the 2018 New York International Auto Show are the venue itself, plus a bloke from Newcastle who's the daddy of the unique, multi-billion dollar facility. The Jacob K Javits Convention Centre's near neighbours are among NYC's finest. They include the Empire State Building, the Hudson River, and the iconic New Yorker landmark sign, plus Manhattan Motor Cars – possibly the world's busiest and most valuable hyper/super/prestige car dealership.
Current estimates for a standard-size "NYC block of land" are around the $700m mark. So with The Javits occupying six blocks of prime ground with views to die for, conservative valuations would put a $4.2bn price tag on it – not bad for a collection which auto show attendees this week pay a mere $17 to enter.
The Englishman in New York who's the boss at The Javits is Alan Steel, who recently spent a cool $465 million sprucing up the venue, the New York Times reveals. Now he's confirmed another $1.5bn spend for further expansion.
Big Al's a surprisingly down-to-earth Geordie who's understandably chuffed about the current New York Auto Show and exhibition space that houses it. But it's when this Javits president and CEO tells me about the lid of his building that his eyes shine brightest. It comprises a 6.75-acre green roof, the second largest of its kind in America. Residents include 17 bird species, five types of bats, and 300,000 bees, plus countless human visitors who get guided tours. Big Al's big roof is bit like big ol' Central Park, but with better views.
There really is something quite surreal about a NE England car guy showing a SE London car guy his sane but insane roof which quietly floats above edgy, noisy, sometimes dirty NYC of all places. Honestly, I crave something similar, if a tad smaller, atop my flat-roofed Georgian home in Blighty.
More importantly why can't every car exhibition roof space not already clad in solar panels be 'greened', Javits-style? And even more importantly, why not the same sort of clean, green, energy-saving, environmentally sound roof spaces above every vehicle or engine plant the world over?
Around 100 million vehicles are built annually, and their makers come in for more stick than manufacturers of all other consumer goods. It's time they began defending themselves with words, actions and gestures. There'd be no better way to start than transforming car factory and franchised dealership roofs (and walls?) into energy-efficient, gloriously green, Javits-like spaces.
If you're at the New York show, do say hello. You'll probably find me on the grass roof above it – wearing sandals and eating free-range lentils.
Click here for everything from the 2018 New York Motor Show...