Jaguar Land Rover boss warns no-deal Brexit could cost "tens of thousands" of jobs
Ralf Speth tells conference "we will not be able to build cars if the motorway to and from Dover becomes a car park."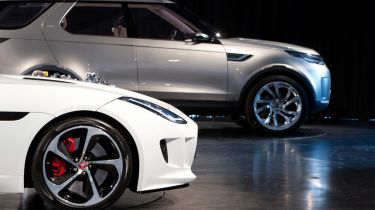 Jaguar Land Rover's chief executive, Dr Ralf Speth, has issued a stark warning about the effects a bad Brexit deal would have on the company.
Speaking at the Government's Zero Emission Vehicle Summit in Birmingham, Speth said: "Jobs have been shed when they should have been created. A thousand lost as a result of diesel policy. And those numbers will be counted in the tens of thousands if we do not get the right Brexit deal."
• Jaguar I-Pace named Car of the Year 2018 
Industry leaders are concerned that leaving the European Union will have a significant impact on the ability to import and export parts – a fundamental aspect of car manufacturing. In an outspoken statement, Speth said: "Like many British companies, our supply chains reach deep into Europe. Bluntly, we will not be able to build cars if the motorway to and from Dover becomes a car park."
Such potential bottlenecks led Speth to consider: "Brexit is due to happen on 29th March next year. Currently, I do not even know if any of our manufacturing facilities will be able to function on the 30th." 
As well as border delays and lengthy queues at ports, the cost of trade is likely to go up if a no-deal Brexit goes forward. If the UK crashes out of the EU customs union without a deal, World Trade Organisation (WTO) export tariffs of 9.8 per cent would be applied to cars, dramatically affecting UK-based auto manufacturers' operating margins. One in three cars exported from the UK is a JLR product, while the company sells 20% of its vehicles in Europe.
Placing a question mark on JLR's future in the UK, Speth said while the company was "firmly committed" to the country: "What decisions will we be forced to make, if Brexit means not merely that costs go up, but that we cannot physically build cars on time and on budget in the UK?" Back in July, Speth warned a no-deal Brexit could cost the company £1.2 billion, and put £80 billion of planned investment in jeopardy.
Jaguar Land Rover is the UK's largest automotive employer, with around roughly 40,000 staff. The company recently announced around 1,000 job losses from its Solihull plant due to a fall in demand for diesel engines – a powertrain particularly suitable for many of its vehicles.
JLR also reported a pre-tax loss of £264 million for the first-quarter of the 2018/19 financial year. At the time, Speth said the company had been "impacted negatively by uncertainty over diesels in Europe along with Brexit".
JLR is not alone in voicing significant Brexit concerns. At the start of the summer, BMW revealed it had set up a Brexit task force to prepare for a worst-case scenario.
Get all the latest Jaguar news and reviews here...