"Peugeot is delivering the goods with confidence, but not an ounce of cockiness"
Peugeot has been making electric vehicles for decades without an ounce of cockiness, says Mike Rutherford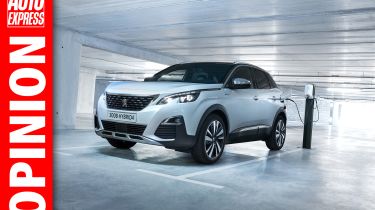 Finally, Peugeot is realising its colossal potential as it struts its stuff on the global automotive stage, delivering the goods with quiet confidence, but not an ounce of cockiness.
The 'Volkswagen of France' just stole the Paris Motor Show (sorry Renault). And after designing and building gems such as the 3008 and 5008 of late, Peugeot is at last proving that it's arrived as a world-class peddler of petrol and diesel vehicles which, incidentally, are being shipped to more corners of the globe than ever before.
• Best electric cars to buy 2018
Germany's got scandal-hit VW, plus its daughter companies, Audi, SEAT and Skoda. But France possesses scandal-free (well, almost) Peugeot, which is the dominant daddy of a rapidly expanding clan that includes Citroen, DS, Opel and Vauxhall.
While continuing to unapologetically build what I reckon are the finest, most frugal, least controversial mass-produced diesel engines on the planet, Peugeot has tricked some into thinking that the company isn't ahead of the 'electrified vehicle' game. But nothing could be further from the truth.
A couple of decades ago, when the world was Nissan Leafless and Elon Musk was all short trousers, pimples and bum fluff, Peugeot was quietly running 100 per cent electric vehicles on Britain's streets.
Back then it delivered an all-electric van to my home 25 miles from London before inviting me to drive it to the centre of the capital and back, which it comfortably did. That was then and this is almost 20 years later, when your Royal Mail postie will be delivering packages to your front door in similar, but more efficient pure-electric Peugeot vans.
• UK electric car grants being cut
In Paris the company also hinted to me that although it sees a bright future for small all-electric cars in predominantly urban areas, the future is perhaps even brighter for medium-to-large petrol-electrics. So expect PHEV badges to feature heavily on more or most mid/big Peugeots from this point onwards.
Think of the firm as a 4x4 player, too. And with its long history of two and three-wheeled vehicle design and production, who is better placed than Peugeot to install tiny transport contraptions in your car or van for 'last-leg' journeys from car parks to shops or workplaces?
But the now is as important as the future. And, thankfully, Peugeot is selling state-of-the-art diesel cars that'll do 60mpg in the real world. On my 626-mile trip to and from the Paris Motor Show last week, the 5008 I drove on free-flowing motorways and in traffic-choked cities returned an average 61.3mpg. Why kill off diesels when they're so ridiculously efficient and cost-effective?
What do you think of Peugeot's recent performance? Is the French brand going places? Let us know in the comments...
More from Mike