Black cabs up to 30 times more polluting than cars
Research finds the most common London taxis emit up to 30 times as much NOx as personal petrol cars of the same age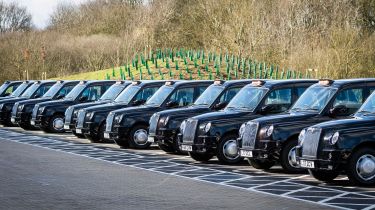 The most common models of the iconic London black cab emit up to 30 times the amount of NOx as personal petrol cars of the same age, according to emissions experts.
The data from The Real Urban Emissions Initiative (TRUE) shows average NOx emissions per kilogram of fuel used from black cabs have increased over the past five years. The research also suggests Euro 5 black cabs are producing at least 50 per cent more NOx than older Euro 3 and 4 models.
• Meter glitch halts new London black cab rollout
TRUE's findings came from measurements of real-world NOx, particulate and CO2 emissions from more than 100,000 vehicles – including taxis and buses – on the streets of London. The data was acquired using in-vehicle portable emissions measurement systems (PEMS) and well as remote sensing, which sees light beams shone through vehicles' exhaust fumes.
The negative ratings for black cabs can be expected to change with the recent introduction of the electric LEVC TX. The latest generation of London taxi is powered by a battery pack and a small range-extending petrol engine, making it effectively zero emission in most circumstances.
• London Taxi Company loses appeal to trademark black cab shape
As for standard passenger cars, it was revealed Euro 5 models and older are responsible for 60 per cent of Greater London's NOx emissions from that vehicle type.
Meanwhile, the capital's Euro 5 and Euro 6 diesel cars produce, on average, six times more NOx than the equivalent petrol models. In contrast, average NOx emissions from London's bus fleet have fallen 65 per cent in the last five years.
• Black cabs to map London for future autonomous cars under new deal
Commenting on the data, London's Mayor, Sadiq Khan, who recently announced a van scrappage scheme for small business owners, said: "We all need to play a part in cleaning up our toxic air and while I am encouraged that almost 1,000 taxi drivers have switched to cleaner electric taxis, this damning report really highlights why we need to accelerate their uptake."
In a statement, LEVC said it "has invested £500m to achieve the best-possible emission standards in developing the latest generation of London taxis".
It added: "More than a thousand LEVC electric taxis are now on the road in the UK and we are confident of further significant expansion of the fleet over the next few years. These new vehicles will gradually replace existing diesel taxis and we have tabled a number of proposals to the Mayor's Office aimed at speeding up this transition so we can meet the Mayor's target to have 9,000 electric taxis in London by the end of 2020."
Should more be done to encourage cab drivers to upgrade their vehicles? Let us know your thoughts in the comments...