'As the 19-plate approaches, some of the deals we've seen have amazed us'
As March approaches, now is the time to buy a new car, says Steve Fowler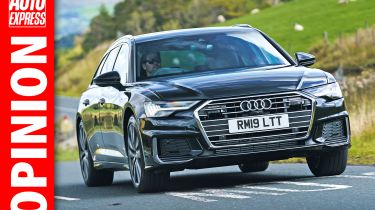 There's nothing we like more here at Auto Express than surfing the internet looking at new car deals. Saving thousands – even for our dream garages – never ceases to bring a smile to our faces, bringing the wonderful feeling that we're beating the system.
There are normally certain times of the year when deals reach their peak – the end of a financial quarter, for example. Rarely are the deal taps turned on full when demand is traditionally highest, like plate-change time.
Of course, it's a unique time right now and the car market is down in the dumps. But even so, some of the deals we've seen recently have amazed us, especially from premium makes. How does £12,000 off a new and rather brilliant Audi A6 Avant (like the car above) sound? At the more affordable end of the premium scale, over £4,000 can be sliced from the list price of another great car – Mercedes' tech-packed new A-Class.
These cars might be pre-ordered and in stock, but if you're not too fussed if somebody has chosen the colour and ticked the options boxes for you, you can get a car without the now-normal multi-month wait and save yourself enough for a great holiday into the bargain!
It's not only new cars. Auto Express's sister site Buyacar.co.uk has plenty of used cars – many nearly new with low mileages – with similarly tempting savings wrapped up into tempting monthly finance deals.
Put simply, when car dealers are flush with stock but bereft of customers, then the deals come out. And if you or your friends and family are talking about buying a car, now's a great time to take advantage.
We're not saying that car buying is easy, though. That's why we've put together our best-ever list of hints and tips to help you through the difficult journey of choosing the right car from an ever-increasing number of models and ways to buy. And do let us know if you find a cracking deal; I might end up putting it in my dream garage.
Looking for a great deal on a used or nearly new car? Head to Buyacar.co.uk to see how much you could save...