Driverless cars will require one billion lines of code, says JLR
Jaguar Land Rover says autonomous vehicles will need 1,000 times more computer code than Apollo 11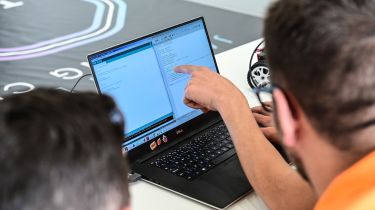 Self-driving cars will need around one billion lines of computer code – nearly 1,000 times more than the 145,000 NASA needed to land Apollo 11 on the moon.
Jaguar Land Rover (JLR) gave the estimated figure to illustrate the seriousness of the need for more people to become qualified coders in order to help deliver connected and autonomous vehicles in the future.
• Jaguar Land Rover develops "trustworthy" autonomous cars
The British manufacturer says it wanted to "inspire the next generation of software engineers" via the Land Rover 4x4 In Schools Technology Challenge – an educational initiative designed to encourage teenagers to aspire towards STEM (science, technology, engineering, maths and medicine) careers.
In the world finals this year, participants were given 30 minutes to write 200 lines of computer code to enable a scale model Range Rover Evoque to navigate a 5.7-metre circuit.
The programme that the challenge is part of has allowed JLR to reach more than four million young people since 2000, with 110 students from 14 different countries qualifying for the world finals this year, which were held at Warwick University and won by the NewGen Motors team from Greece, following two days of competition.
• Britain's autonomous car network - using 5G tech to drive the future of motoring
This year, JLR is also launching a Digital Skills Apprenticeship programme in order to attract computer engineers to help code its next generation of electric, connected and autonomous vehicles, as well as support the firm's factories in the future.
Last year, there were 23 million software developers in the world, with this figure expected to grow to 27.7 million by 2023. Research by the World Economic Forum suggests around 65 per cent of today's students will end up working in jobs that don't exist at present.
Nick Rogers, executive director of product engineering at JLR, said computer engineering and software skills are "more important than ever". He added: "The UK will need 1.2 million more people with specialist digital skills by 2022."
Would you ever buy a driverless car? Let us know in the comments below...