This week's issue of Auto Express
Check out the latest issue for our exclusive test of the all-new Range Rover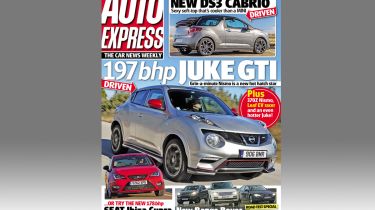 We have a road test treat in this week's issue of Auto Express – out on 30 January 2013 – featuring the all-new Range Rover and two very different rivals. We've pitted it against the Porsche Cayenne Turbo and long-wheelbase Audi A8 to see if it can take the crown not only as a capable 4x4 but as luxury limo, too.
We've also driven the limited-run Audi A1 quattro to find out how it compares to the legendary Audi Quattro, as well as the hot Nissan Juke Nismo, facelifted SEAT Ibiza Cupra and all-new Citroen DS3 Cabrio. We also give our definitive verdict on the updated Toyota Verso and efficient new Honda Civic 1.6 diesel.
In news, we reveal a series of hot new Nissans, the all-new Kia Cee'd GT and Audi's baby R8. We've also got details of the latest Euro NCAP crash test results and a look into Peugeot-Citroen's hybrid future.
This week's feature is all about the depreciation winners and losers, and the models you should go for if you want to avoid losing up to £13,000 in a day. Plus, there's all the usual product reviews, consumer news and buying guides, as well as a preview of a new turbocharged F1 engine for 2014.
Issue 1,252 is available to buy now, priced at £2.45. Alternatively, you can claim six issues for £1 and have the magazine delivered straight to your door every week or download our new iPad edition.